Though the global economy seems to have bottomed out, Vietnamese banks looking to increase their capital are unable to find strategic foreign partners willing to pick up stakes in them.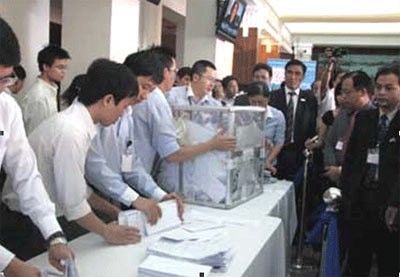 A view of an auction of VietinBank stocks
The Joint Stock Commercial Bank for Foreign Trade of Vietnam (Vietcombank) is one of several State-owned banks that is struggling to find a foreign investor.
 
Vietcombank plans to increase its capital by VND1.12 trillion (US$58.9 million) to VND12.1 trillion.
 
The plan was approved by shareholders but not by the State Bank of Vietnam since the bank is not allowed to expand its capital without selling shares to strategic investors under the Government's equitization rules.
 
Dinh The Hien, a financial expert, explained that the Government, which owns a majority stake in Vietcombank, is looking for shareholders with financial muscle who can develop the bank.
 
This is not only to boost the bank's prestige but also strengthen the Vietnamese financial system, he said.
 
Nguyen Hoa Binh, Vietcombank's chairman, said the bank held talks with several foreign strategic investors in 2008-09 but failed to tie up with any one them.
 
If the bank fails to expand its capital soon, its capital adequacy ratio would go under the 8 percent international norm, he said.
 
Dr. Le Xuan Nghia, deputy chairman of the National Finance Supervision Committee, said with its large market share Vietcombank should not find it difficult to find a foreign partner especially since banking is thought to be a promising sector in 2010.
 
DongA Bank too has been unable to find a strategic investor despite hunting for one for many years.
 
DongA Bank general Tran Phuong Binh said: "Our outlook is to develop the bank relying on our internal resources. So we will sell shares only to appropriate partners. Though we do not have a foreign partner, DongA Bank is confident about its systems and technologies."
 
It would choose a strategic partner based on the products it plans to develop, he revealed.
 
For instance, if it wants to develop personal banking, its strategic partner would have to have strengths in that area to help DongA Bank become a market leader, he said.
 
Since State-owned banks began to equitize in 2007 many of them have been trying to tie up with foreign banks.
 
The Government gave approval last week for Canada's Bank of Nova Scotia and the International Finance Corporation, the World Bank's private sector lending arm, to buy shares in the Vietnam Joint Stock Commercial Bank for Industry and Trade (VietinBank).
 
Each will own a maximum 10 percent stake to become strategic investors in the Hanoi-based bank.
 
The bank's equitization steering board will complete negotiations on pricing, technical assistance, and cooperation by the second quarter this year.