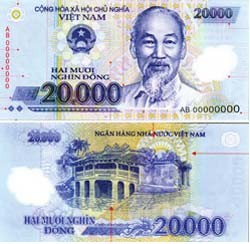 The front and back sides of the new VND 20,000 banknote.
The State Bank of Viet Nam (SBV) has just announced that the new banknote in denomination of VND 20,000 are going into circulation from May 17, 2006.
After the issuance of polymer banknote in denominations of VND 50,000, VND 100,000, VND 500,000, this issuance is going to provide more protection against counterfeiting, improve durability and cleanness of the banknote in order to cope with the payment demand of the economy.
This can also reduce the money issuing cost in the long term.
The old paper VND 20,000 banknote will continue to remain in circulation.
The new polymer banknote has the size of 136mm x 65mm. Overall, the front side and back side of the new note both have light blue theme.
The front size is printed with the "CỘNG HÒA XÃ HỘI CHỦ NGHĨA VIỆT NAM" line, the nation's coat of arms, President Ho Chi Minh's portrait, and the par value 20,000 dong in figure and text.
The back side has the line of "NGÂN HÀNG NHÀ NƯỚC VIỆT NAM", the scene of Cau Pagoda in Hoi An (Quang Nam province), par value in figure and text, modern decoration grid patterns.
The banknote of this issuance will also have securities features like other issued polymer banknote such as latent images, securities threads, embossed number, transparent window, and diffraction grating.
Related Articles:
SBV to issue VND10,000 and 20,000 polymer bank notes