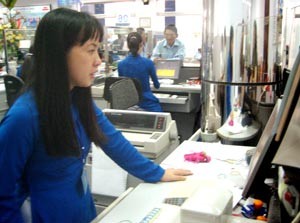 ACB stocks are accepted to mortgage by VPBank (Photo: TC)
The Viet Nam Joint-stock Commercial Bank for Private Enterprises (VPBank) has officially launched a lending product which uses customers' bank stocks as collateral.
Initially, VPBank accept the stocks of 9 commercial joint-stock banks including Asia Commercial Bank (ACB), Sai Gon Thuong Tin Bank (Sacombank), Eastern Asia Bank (EAB), Viet Nam Export - Import Bank (Eximbank), Viet Nam Technological and Commercial Bank (Techcombank), Military Bank (MB), Viet Nam International Bank (VIB), Ha Noi Building Bank (Habubank) and Orient Bank (Oricombank). If customers want to mortgage stocks, which are not in the list, the bank will consider it on case by case basic.
Depending on the customers purpose of borrowing and their repaying capability, VPBank will specify the appropriate terms of loan. The maximum term is 60 months.
For the valuation of stocks and the determination of the amount of money lent, Mr. Le Dac Son, Director of VPBank said that the market value of bank stocks will be the basis for calculation. VPBank will consider the trading price on OTC market as well as the analysis on the issuer's operation performance and related information. The future trend of the stock price is also taken into consideration.
The amount of money lent will be based on the customers' actual need and term of borrowing. The maximum amount possible is 200% of the stock's par value.
As for terms of below 12 months, customers can choose to pay at the end of the period or by installments. As for terms exceeding 12 months, the debt must be paid monthly or quarterly.
Related Articles:
Sacombank Prepares To List
SJC, Eximbank Seek to Cool Gold Fever
Habubank Securities Company Starts up
EAB Planned to Raise Capital and Reduce Par Value of Its Stock
The First Bank in Viet Nam to Accept Unlisted Stocks as Collateral
ACB Ups Capital to Over VND1.1 Trillion
HSBC Buys into Techcombank for US$17.3 Million