A nuanced and flexible monetary policy is the best way to restrain inflation in Vietnam, a prominent economist has said, eschewing one-size-fits-all remedies.
Dr. Tran Hoang Ngan, a member of National Advisory Council for Financial and Monetary Policy, said increasing global demand fueled by the ongoing world economic recovery had pushed Vietnam's consumer price index (CPI) up 4.12 percent since the beginning of the year.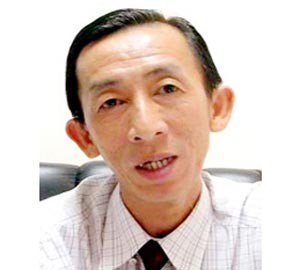 Dr. Tran Hoang Ngan, a member of the National Advisory Council for Financial and Monetary Policy (Photo: SGGP)
The surging cost of imported materials, electricity, water, and fuel has upped manufacturing input costs, resulting in commodity price hikes, he said, adding that a large money supply on the market had also contributed to the hikes.
The common prescription international financial organizations give for inflation is to tighten financial and monetary policies, but Ngan said monetary policy must be based on the specific conditions present in each country.
In Vietnam, inflation has been caused by both the increased money supply and increased production costs, he said.
"Therefore, the country should run a flexible financial and monetary policy, ensuring a large-enough capital supply for the economy, especially for production and trade activities."
Such a policy will help meet the Government's target of keeping inflation under 10 percent for the year, and it will boost economic growth, he said.
He said it was not necessary to raise the prime rate or the compulsory reserve rate at commercial banks.
The best way to meet the 6.5 percent GDP growth target for the year, he said, would be for Government agencies to keep petrol, oil, electricity and coal prices stable "on a long-term basis and strengthen control over market prices."
To ease the trade deficit, which stood at US$3.5 billion in the Jan-Mar period, or 25 percent of total export turnover, Ngan said Vietnam should restrain its imports of luxury goods and boost exports by supporting exporters and export manufacturers.
Dr. Ngan also urged that exchange and interest rates be dealt with cautiously.

"The State Bank of Vietnam should prevent exchange rates from fluctuating because fluctuation may give rise to inflation. It should also strengthen foreign exchange reserves as an instrument to stabilize exchange rates."
Dr. Ngan suggested that the state lender and commercial banks gradually reduce interest rates, though he said the current deposit and lending rates of 11-12 percent and 14-15 percent, respectively, were reasonable.

He said that lowering the deposit rate to 9-10 percent and the lending rate to 12-13 percent over time could help facilitate business growth in Vietnam.