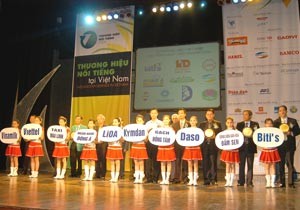 Ten trademarks are "Well-known Viet Nam's brand". (Photo: T.C.)
Recently, consumers voted for "Most well-known Viet Nam's trademarks". The winner in the finance – banking – insurance sector is the Eastern Asia Commercial Joint-stock Bank (EAB).
The survey was conducted by the market research firm AC Nielsen, as part of the Viet Nam Chamber of Commerce and Industry VCCI's "Well-known Brand Names" program. The awarding ceremony for winners of the ten sectors was held in Ha Noi on April 5.
This was the first program of its kind in Viet Nam. The goal is to support enterprises to enhance their competitive capacity in the economic integrating process by building & developing brand names and to guarantee consumers' interests.
Consumers voted for EAB because of its popular-services policies. EAB has continuously introduced new services to meet the needs of customers, especially ATM cards, payment cards, and other methods of automatic transactions. EAB has recently issued cards to students free- of- charge enabling them to access card services.