Viet Nam is committed to open various markets, including the financial and banking market, for its World Trade Organization membership. By mid-2007 as scheduled, foreign banks would be allowed to open more branches, take deposits in VND and issue credit cards. Discrimination between Vietnamese and foreign enterprises would no longer exist when Viet Nam joins the WTO. The Sai Gon Giai Phong newspaper noted banking experts' ideas about what Vietnamese banks need to do for international competition.
State Bank of Viet Nam Governor Le Duc Thuy: More efforts needed
More than 30 branches of foreign banks are operating in Viet Nam, each with US$15 million of the minimum capital. They have held more than 10% of the market for years, and sought to improve the quality and effectiveness rather than expansions.
Vietnamese banks have to improve all fields if they are to win the race. Increasing their own capital to expand is necessary, but it is also a must to advance technology and management capacity.
Many studies have shown that when a foreign bank entered Viet Nam, local depositors tended to shift to that bank. The studies are not wrong but not completely right. Foreign banks have operated in Viet Nam for many years but it is still hard for Vietnamese enterprises to get access to their loans because their requirements are strict and their interest rates are not lower.
As for deposits, customers pay close attention to safety and interest rates. Vietnamese commercial banks have established their prestige, resulting in lots of deposits for them. However, local banks need to further take advantage of their current strengths.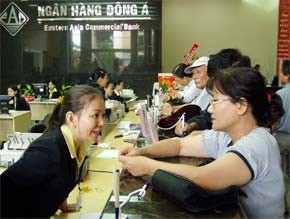 Customers at Eastern Asia Bank in Ho Chi Minh City (Photo: Tuong Thuy)

Eastern Asia Bank general director Tran Phuong Binh:

Development and competition strategy
A challenge for most of the local commercial banks is how to sharpen the competitive edge and make full use of opportunities available in an open market. Despite limited capital and not-yet-good services, the Vietnamese banking system holds such advantages as business culture, dynamic staff, and the expanded networks reaching to almost every single family. Meanwhile, foreign bankers need time to overcome these obstacles.
It is important that local banks need to utilize the advantages effectively. I would say that if only three million people in Ho Chi Minh City use banking services – all payments and salaries go through banks – a huge amount of capital will be created for the city's development and help local banks survive in the integration process.
Sacombank chairman Dang Van Thanh: Network expansion
Local banks should not set a benchmark as increases in deposits. Instead, they need to shift from supplying credit to providing services.
As the financial market in provinces is still small, local banks need to make more efforts to expand their networks. It is also advisable for local banks to serve more purposes of customers such as consumption loans, savings, education and individual investments. For example, a network present in many neighborhoods has more advantages in money transfer, foreign remittance and serving businesses. Also via this channel, local banks will obtain more deposits.
VIBank general director Le Dinh Long: Local banks team up with each other
My bank has prepared to face integration challenges for a long time. We have taken the challenges and sought to overcome them. Our current effective operation is a firm foundation for us in the coming time. To compete successfully, planning plays a very important role and human reources is a decisive factor.
Local banks have invested a lot in training to improve their staff's skills but this is not enough because teamwork is also very important.
Another point is that banks must always be forward looking to work out products suitable for their future customers.
Local banks need to cooperate even when they have interest disputes to compete with foreign banks. This is similar to an international race where athletes of a country must support each other to win.