Credit organizations resolved keep deposit interest rates below 11 percent a year at a meeting held Monday in Ho Chi Minh City organized by the Vietnam Bank Association and leaders of the commercial banks.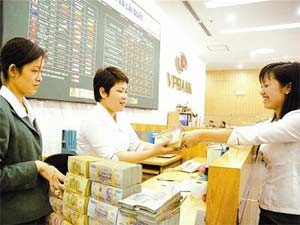 Investors at a local bank

The new ceiling interest rate for deposits in dong will be applied by banks nationwide early next month.

The growth rate of capital mobilization of commercial banks in the first two months of this year was 1.81 percent and in the first quarter, it is expected to reach 5.48 percent, according to a report by the State Bank of Viet Nam. The credit growth rates in the same two periods are higher at 8.45 percent and 10.8 percent.

It was agreed by all the representatives that if drastic measures are not promptly taken to stabilize the currency market and ensure healthy competition among members of the banking system, the target of reaching 30 percent of credit growth rate will not be achieved this year.

The banking system currently has a total usable capital of more than VND14,000 billion (US$875 million).