Agribank, the Vietnam Bank for Agriculture and Rural Development, will provide VND1 trillion (US$61 million) to tra and basa fish producers in the Mekong Delta to buy a large quantity of fish, said Ta Quang Khanh, director of the Credit Department the State Bank of Viet Nam.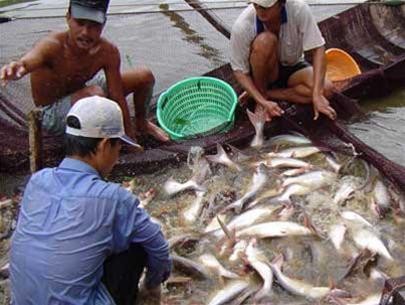 Catfish breeders can borrow bank loan to buy a large quantity of fish(Photo:TTO)
The move follows instructions by Deputy Prime Minister Hoang Trung Hai given at a Sunday online conference on solving the catfish industries difficulties.
Mr. Nguyen The Binh, Agribank's general manager, decided to provide An Giang and Dong Thap provinces with VND200 billion (US$12.3 million) each while other provinces will get VND100 billion (US$6.1 million) each.
To access the capital, a catfish processing plant must have a healthy financial condition, annual revenues, and put catfish on the market.
Five enterprises in Dong Thap and Tien Giang provinces have just asked the central bank to give them enough capital to buy a large quantity of fish, according to Mr. Khanh.
The central bank has requested that Vietcombank and the Vietnam Bank for Industry and Trade offer capital to these processors.
The central bank directed the commercial banks to rollover loans already extended to catfish breeders as well as make additional loans available to them.
Catfish processing enterprises need VND4.1 trillion (US$257 million), according to the Ministry of Agriculture and Rural Development.

Link:
Catfish Industry Needs Capital Urgently