Statistics show that the volume of marketed apartments and transactions has soared up recently. Banks have offered many credit packages for house buyers with preferential interest rates and investor financing programs.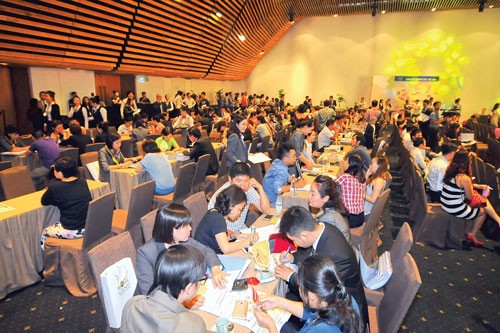 Customers learn about loaning procedures at Novaland Group (Photo: SGGP)
Director of retail division at the Vietnam Bank for Industry and Trade Phung Duy Khuong said that real estate has been among the bank's largest loaning and highest growth fields.
Real estate outstanding loans accounted for 20 percent total in the retail division by the end of August, up 62 percent over 2014 and 178 percent over 2013, he said.
They have provided many preferential programs to real estate customers with longer loaning time and shorter documents and procedures, he added.
Many banks have continued standing security for future properties since early October. For instance, apartment buyers of Mega Village project in District 9 of Khang Dien Company can get capital assistance from Viet Capital Bank. It has provided property assessment free of charge and handled loan documents within only eight working hours.
PVcombank has launched a credit package to customers of Krista and Vista Verde projects in HCMC at the interest rate of only 5.99 percent a year within a certain time.
Vietnam Export Import Bank in Hanoi has signed a contract to finance Thu Do Investment and Trading Company's Ecolife West Lake project with VND310 billion (US$14 million), and answered for the investor's financial obligations to customers.
Businesses have increased their supply with a lot of middle and high class projects being opened for sale in southern and northern HCMC.
Real estate expert Le Ba Chi Nhan said that middle and high class apartment supply had reached 60,000 in the fourth quarter. The coordination between investors and banks was a good sign to stimulate borrowing demand of house seekers.
According to a report by Commercial Real Estate Services Vietnam, Hanoi had about 6,880 apartment transactions by the third quarter 2015, up 154 percent over the same period last year.
HCMC had about 10,114 apartments offered for sale from 26 projects, triple that in the third quarter last year. The number of traded apartments hit 7,862, up 88 percent.
Outstanding loans in the real estate field approximated VND360 trillion (US$16.25 billion) by mid August, double it in 2009 when market crisis started.
At a meeting this midyear, Deputy Governor of the State Bank of Vietnam Nguyen Thi Hong stressed that real estate credit has focused on half done projects to meet real housing demand of residents not for speculation as before. Therefore, the warming up market is a good sign for the economy.
Prime Minister Nguyen Tan Dung has asked banks to continue loaning but ensure suitable credit structure. Especially, they should have measures to control risky fields such as real estate and projects with long capital reclaiming time.