Vietnam's basa fish is expected to appear in Russian again in April, if negotiations between local exporters and their Russian partners continue, recently announced the Deputy Minster of Agricultural and Rural Development, Luong Le Phuong.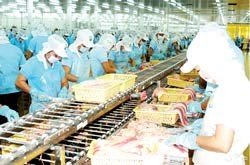 Workers at Nam Viet Export Co., An Giang Province, process Tra fish for export
Russia used to be one of Vietnam's key export markets for this fish. In 2008, Vietnam exported nearly 120,000 tons of basa fish worth $200 million to Russia.

Unfortunately, unhealthy competition between local breeders and exporters, leading to unstable prices and exported products' poor quality, forced Russian importers to ask their government to put a temporary ban on the import of Vietnam's basa fish.

The need to re-export basa fish to Russia seems to have produced an impetus of economic efficiency in Vietnamese exporters, who have taken into consideration that a kilo of filet will fetch between $3.30-3.40 in Russia but only $2.90 in the EU.

Thanks to such prices, exporters are expected to purchase fish from local breeders for between VND15,000 to 17,000 a kilo. It is very good news for local farmers.

During negotiations last week, Vietnamese exporters and their Russian partners also reached an agreement where Vietnam only exports basa fish in large quantities to Russia if Russian importers agree to buy other products, including dried seafood, octopi and fish pies (surami).

Since basa fish has been viewed as a favorite food for many Russian families' daily meals, Mr. Phuong said that Russia will become Vietnam's largest export market for basa fish in the coming future, if local exporters can comply with Russia's regulations.

He said that export volume for this kind of fish is expected to reach $500 million per year in the coming future.

He also pointed out that on average Russians are reported to eat between seven and 12.5 kilos of fish per ear. Russia currently consumes more fish than any other country.

Aside from fish, Russia also consumes large volumes of frozen shrimp. Last year, CP Group of Thailand exported about 200 million frozen shrimps to Russia. The country is seen as a potential export for Vietnamese shrimp breeders, too.

Also according to Mr. Phuong, the Ministry of Agricultural and Rural Development has recently established a board to mange the export of basa fish to Russia.

As head of the board, Duong Ngoc Minh, general director of Hung Vuong Corporation in Tien Giang, will be responsible for negotiating with Russian importers for regulations on imports.

As to members working for the board, aside from Vietnam Association of Seafood Exporters and Producers(VASEP), there will also be representatives from banks.

The purpose of establishing such a board, said Mr Phuong, is to prevent local exporters from unhealthy competition by dumping their products, resulting in unstable prices on the market.  
Related article:
Seafood industry sees improving horizon