The price of green-skin grapefruit in the Mekong Delta Province of Ben Tre has stabilized at VND20,000 per kilogram but farmers are unable to produce enough for the market, said Le Thi Hong, a grapefruit farmer in the region.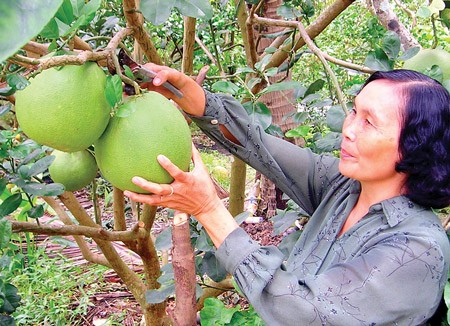 Le Thi Hong at her grapefruit garden in Ben Tre Province (Photo SGGP)
Those selling the grapefruit to consumers in Ho Chi Minh City and Hanoi will charge VND25,000 – 30,000 per kilogram.
Currently, Ben Tre Province is testing a model to produce green-skin grapefruit following strict food safety and quality guidelines.
The total area of green-skin grapefruit in the province is over 3,000 hectares.
The grapefruit is popular in domestic and foreign markets.
According to statistics, Ben Tre has around 41,000 hectares of fruit trees, producing around 380,000 tons of fruit each year.
The province is widely known for its high quality produce, such as durian, mango, mangosteen, rambutan and longan, as well as grapefruit.
Green-skinned grapefruit is a new variety of fruit in the province. After years of being second to Nam Roi grapefruit in terms of quality, the green-skinned grapefruit has surpassed Nam Roi grapefruit to occupy the top spot.
The province has registered a trademark for its export grapefruit and has recently planned to develop around 1,000 hectares of the fruit for export.