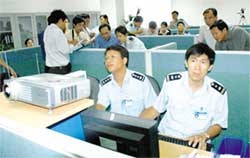 E-customs Clearance at the Ho Chi Minh City E-Customs Division.
(Photo: Cao Thang)
Vice Director of the Bureau of anti-contraband Investigation, Nguyen Khanh Quang, said that the General Department of Customs will apply the risk management method from January 1, 2006. Goods will be passed through the customs by the elimination method, so customs officers will directly check goods less often.
This means that enterprises who don't violate laws will be classified and pass through the customs more quickly than others. The direct inspection will be applied only when enterprises are suspected of smuggling or conveying illegal goods.
Mr. Quang added that at present, the Investigation Bureau for anti-contraband and the Bureau of Information Technology (IT) have completed commodity data to supply to the IT network systems of all localities. After completing, all border gates can refer to the data system of the network.