On the morning of August 25, Binh An Seafood Joint Stock Company (Bianfishco), the Saigon Hanoi Commercial Joint Stock Bank (SHB), and the Debts and Assets Trading Corporation under the Ministry of Finance (DATC) held a press conference to announce that from now on SHB will be involved in restructuring all activities of Bianfishco.
Tran Van Tri, CEO of Bianfishco, said that though it took a long time to submit all required documents and complete necessary procedures, Can Tho City has now officially certified a new business registration license for the Binh An Seafood Joint Stock Company (Bianfishco).
The new license stipulates that Saigon Hanoi Commercial Joint Stock Bank, which is the largest shareholder with 50 percent stake, will oversee operations of the company from now on.
Tri added that as per the new license, he is the legal representative of the company, replacing his wife Pham Thi Dieu Hien, former director of Bianfishco. Furthermore, he will prioritize repayment of all farmers back debts, who had not yet received payments for catfish they had sold to Bianfishco many months ago.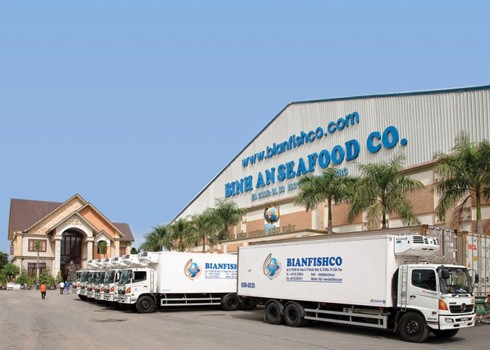 The Bianfishco factory
The two sides also reached an agreement on mode of repayment so that farmers do not agitate in front of the villa and shout slogans or make loud protests over loudspeakers to demand their money.
Informing relevant agencies and business partners, Tran Van Tri said that since the company began operations in 2005, Bianfishco has invested in fish processing plants with modern technology, such as cold storages, research institutes, and export of products.
Given the effects of the economic crisis, Bianfishco met with difficulties in repaying loans after it expanded and invested in many projects and has been able to only clear upto VND700 billion in dues this year.
In addition, several banks refused credit to Bianfishco, which led to a stalemate in further production and hence Bianfishco was unable to pay back farmers.
On behalf of the company, Tri apologized to farmers and partners for holding on payments that he had promised many times to repay but could not afford due to 'incomplete administrative procedures'.
Bianfishco will hand over its fish processing plant to the farmers to whom it owes hundreds of billions of dong if it misses payment deadline in October, promised Tri.
Soon the company will have cash to repay the farmers, and join hands with Debts and Assets Trading Corp and other banks to streamline debt clearance procedures and bring the company back on track, Tri added.
The debt-stricken fishery company officially restarted operations at its catfish processing and export plant in Tra Noc Industrial Park in Can Tho City on May 9, 2012.
The company still owes farmers VND200 billion for catfish purchase.
Nguyen Quang Tuyen, a fish farmer in Can Tho, said, "the restructuring of operations of Bianfishco is very good news. However, many fish farmers hope that the company will clear debts together with interest."
As the largest shareholder of Bianfishco, Nguyen Van Le, CEO of SHB, made a commitment that in the coming weeks the company will invite farmers to declare their debts and by September, will clear at least 30 percent of the loans.
Le said that in addition to clearing debts, SHB and shareholders and related industries will quickly set a plan to restructure company operations.
Accordingly, SHB and DATC will involve in the management and administration of all activities of Bianfishco, including business, finance, cost control, inputs and outputs.
SHB will continue disbursement of capital to Bianfishco to buy additional raw material and for working capital. At the same time, negotiations with major creditors such as the Vietnam Development Bank (VDB), Bank for Investment and Development of Vietnam (BIDV) will be carried out to convert debt into equity; organize shareholders to increase capital from VND500 billion to 1,200 billion and to strengthen the financial capacity of the company.
According to Nguyen Van Le, after comprehensive restructuring, the company hopes to run smoothly by 2013.