France's Bourbon Group on August 22 launched a big freezing fishing vessel named SEAS 16.
The vessel is considered the biggest "freezing factory" at sea in Southeast Asia, as it has quick freezing and processing systems. It can also sail in severe weather conditions for a long time.
 
SEAS 16 is 90 meters long, 14.5 meters wide and 9.15 meters tall, with a capacity of 7,500 KVA, and a speed of 17.5 miles an hour.
 
It was built at X51 Factory in Ho Chi Minh City.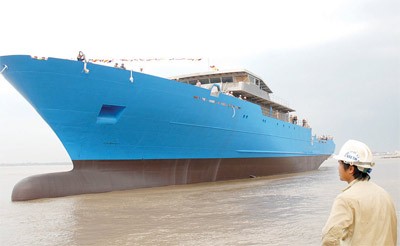 SEAS 16 fishing vessel launched on August 22 (Photo: SGGP)