The largest Italian business mission ever will visit Hanoi and Ho Chi Minh City from November 4th to 7th, 2008, with the main activities including a business forum at the ministerial level, the organizers announced in HCM City Thursday.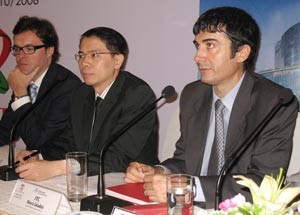 Italian Trade Commissioner Marco Saladini (R) speaks at the Thursday press briefing in HCM City (Photo: Tuong Thuy)
Almost 200 delegates from about 160 Italian companies, consortiums and associations will be led by Minister for Economic Development Claudio Scajola in the mission, said Mr. Marco Saladini, Italian Trade Commissioner in Vietnam.
He told a press briefing in HCM City that the program is organized by the Italian Trade Commission (ICE), the Italian Banks' Association and the Italian Confederation of Industry Associations, with the support of the Vietnam Chamber of Commerce and Industry.
"This is an unparalleled opportunity for local business leaders to meet with their Italian counterparts, broker deals and forge new partnerships. It is also an occasion to strengthen economic relations between Vietnam and Italy at the institutional level."
The Italian Trade Commissioner stressed that 12 banks would be participating in the mission. "They want to do more business in Vietnam and to look at providing banking services here."
Besides the banks, the delegates come from manufacturing and service companies, and business associations, he said.
The four-day business event, titled "Italia Vietnam 2008 - Business Mission" is organized in Hanoi on Nov. 4-5 and in HCM City on Nov. 6-7. Italian Minister for Economic Development Claudio Scajola and Vietnamese Minister for Planning and Investment Vo Hong Phuc will take part in a business forum in Hanoi on Nov. 5 at the Intercontinental Westlake Hotel. Besides, four other seminars will be held in Hanoi the same day and in HCM City on Nov. 7 to give general introductions to the Italian delegates.
Mr. Saladini said there would be many business-to-business meetings between the two sides.
"Many of the delegates are interested in providing products and services to Vietnam while others are seeking suppliers or looking for investment opportunities."
Asked by media why many Italian companies are coming to Vietnam this time, Mr. Saladini said perhaps the best answers would be given by the delegates during the business forum and meetings. He added that each company in the mission has their own reason, but a similarity is that they want to supply goods and services in Vietnam and buy things from the Southeast Asian country.
According to the Italian Trade Commission, bilateral trade between Vietnam and Italy has grown from US$320 million in 1996 to US$1.5 billion in 2007. Vietnam's imports include Italian leather, medical equipment, chemicals, household commodities, construction and transportation equipment. Italy's imports include Vietnamese footwear, textiles and garment, coffee and aquatic products.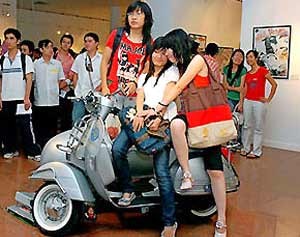 Vespa scooter is considered a fashion item in Vietnam
Italy now ranks ninth among EU countries investing in Vietnam with 28 projects capitalized at US$114 million. Trade Commissioner Saladini said some outstanding examples of Italian investment are candy manufacturer Perfetti, Piaggio, the manufacturer of renowned Vespa scooters, and Merloni, the maker of Ariston water heaters.
"I think Italian investment in Vietnam is still modest compared with potential of the two countries," Mr. Saladini said, adding that the mission is expected to boost bilateral trade and investment, as previous Italian business missions had performed in other countries before Vietnam.
He said during the program, the Italian Trade Commission would sign a business promotion agreement with the Foreign Investment Agency of the Vietnamese Ministry of Planning and Investment. In addition, SIMEST – the development finance institution dedicated to supporting and promoting the activities of Italian companies abroad – will sign another agreement with the State Capital Investment Corporation of Vietnam, also for promoting business development.
In related developments, a new Italian Chamber of Commerce in Vietnam is currently being created. At the same time, the Italy-Vietnam Chamber of Commerce, located in Turin, Italy has recently undergone a renewal of its leadership and is considering expanding its activities.