It is the first time that the Ham Minh Co-operative of dragon fruit in Ham Thuan Nam District, Binh Thuan Province received a certificate of Good Agricultural Practices by Switzerland's EurepGap, a Global Partnership for Safe and Sustainable Agriculture, on November 10.
Farmers take care of dragon tree (Photo: TTO)
Under the unseasonable scorching sun in the middle of November are the vast green fields of dragon fruit in Ham Thuan Nam. "In fact, we were courageous enough to register the production of dragon with the EurepGAP standards. We knew that there would be many difficulties…", Ho Trong Huan, one of the members of the Co-operative, told about the difficult road that the Co-operative had to overcome.
In the beginning of 2005, Nguyen Thuan, one member of Dragon Association of Binh Thuan Province, who had nearly 15 years' experience in dragon farming, was introduced about the project of Vietnam Competitiveness Initiative (VNCI) funded by the USAID.
Thuan reported what he learned from this project to farmers in the area. Not long after that, the Ham Minh Co-operative of dragon fruit, led by Thuan, was established in July 2005 to produce dragon fruits with the European standards on the area of over 50 hectares.
To take part in the project, every participant must have at least one hectare of 1,000 dragon trees, meeting environmental criteria including the distance from cemeteries, combat zones and areas contaminated with industrial wastes. Specimens of soil and water will be tested to determine the concentration of toxin and heavy metal.
"I met many difficulties in supervising the project and instructing farmers on how to take notes of all the growing steps everyday", expert of the IMO Consultant and Supervision Company Hua Chi Tam said.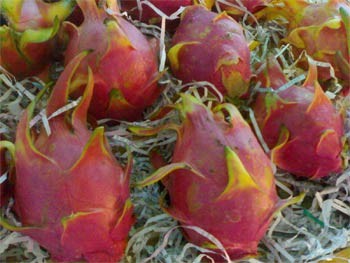 Dragon fruits (Photo:KK)
"More than VND400 million was invested in the construction of storehouse, plant protection medicine, organic fertilizers to have more than 2 hectares of fine dragon trees," farmer Nguyen Van Hue, 70, said.
Vietnamese farmers were trained to be familiar with modern farming methods. They usually access websites to look for the latest agricultural information and plant protection medicines which are prohibited, and learn about the appropriate quantity of insecticide to be used on the fruit.
Enterprising farmers were deservedly compensated for their hardship, strenuousness and industriousness. "The certificate of Good Agricultural Practices and succulent fruit farming by Switzerland's EurepGap is a laissez-passer for Binh Thuan farmers to approach European and American markets", US consul general in Ho Chi Minh City Seth Winnick said at the award ceremony.
The first 500 kilos of clean dragon fruits were exported to EU Metro at the price of US$0.8 a kilo. Several HCMC's enterprises want to cooperate with the Co-operative in dragon production.
"Of course we want to bring more of our high quality products to domestic and foreign markets. But the most importance is to protect the brand name of the local dragon", Thuan said.