Recently, the Government has had a plan to increase production and consumption of bio-fuel by at least five percent by 2020, aiming at reducing use of fossil fuels, however, low consumer demand has led bio fuel plants to operate only perfunctorily.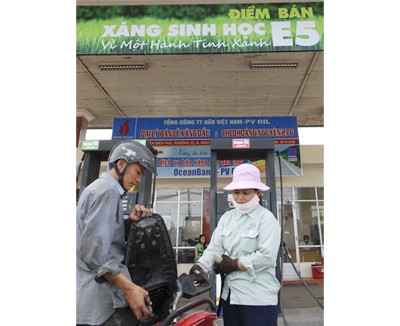 A bio fuel filling station in HCMC (Photo: SGGP)
Pham Thu Trang, Deputy Head of the Science and Technology Department under the Ministry of Industry and Trade, said that six bio fuel plants came into operation last year.
However, most of them are functioning perfunctorily, with one plant belonging to Dong Xanh Company having provisionally stopped operations.
According to businesses, total production capacity of bio fuel in Vietnam reached 535 million liters last year, but demand is too low along with problems like price, delivery and demand.
Besides, policies to develop this environment friendly industry have been implemented too slowly.
Nguyen Duy Cuong, from PetroVietnam, said that initial investment costs in a bio fuel plant are very high, and businesses have been unable to meet costs from the domestic market.
He proposed the Government have long term policies, for instance, exemption of import tariff or reduction of special consumption tax, to encourage businesses to stay in this field.
 
Authorized organs should also step up propaganda to make residents aware of the benefits of using bio fuel.
Nguyen Dinh Hiep, Head of the Science and Technology Department, said that bio fuel has been widely used in 60 countries and territories. Since 1970, tests made in developed countries have proved that the mixture of gasoline and ethanol can be used for motorcycles, cars and trucks without change in engine parts.
Research in Vietnam has showed that the mixture of gasoline and 10 percent ethanol can be used well for such vehicles.
The Government should have policies to assist bio fuel plants solve difficulties, encourage more enterprises to invest in this field and aid farmers to develop cassava to supply for production of bio fuel.