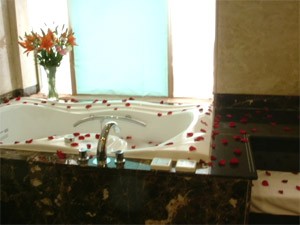 Deluxe bath tube covered with rose petals in Hon Ngoc Viet Resort in Nha Trang.(Photo: Hoang Uy)
Domestic manufacturers of tiles and sanitary ware like Thanh Thanh, Dong Tam, My Xuan, Dong Nai, Thien Thanh and Binh Minh are thriving and on the verge of capturing the entire domestic market.
They buy top-notch production devices and technologies from abroad, enabling their products to compete against foreign items.
Today, it is easy to find a variety of made-in-Viet Nam building products in the stores that crowd the hardware center of Ho Chi Minh City - Ly Thuong Kiet Street in District 10.
"They're just as good as foreign products nowadays," says one hardware store owner. "They are not only eye-catching but their quality is high, and their prices are coming down as the market gets more competitive."
Enameled tiles are the stars of the scene at present, and a good example of how competition is benefiting home builders and renovators. Instead of more than four dollars per square meter of tile as was the case a year ago, now the price has fallen to around three bucks yet the quality and choice are better than ever.
The range of sizes has expanded too and tiles are now available from 30 to 80 centimeters square. Of course the big sizes allow tiling to be done quicker, an important selling point.
And just as with tiles, the prices of locally made porcelain baths, vanity basins and toilets are dropping by between 10 and 15 percent year-on-year.
Tile manufacturers are investing in production machinery big-time. Dozens of factories including Thanh Thanh, Vitaly and Thach Ban can now turn out 5-7 million square meters of enameled tile a year, and this capacity is growing by 20-30 percent annually.
There's no doubt that the manufacture of building products for home interiors has become a major industry in Viet Nam.
What's more, the producers are finding ready markets abroad thanks to the superior quality, greater choice and lower prices of their wares.
Last year the Thanh Thanh Enameled Tile Company reported export revenue in excess of US$500,000 while Dong Nai managed US$400,000 and Phuoc Hoa US$300,000.