The German-based Bosch Group has opened a high-tech facility for manufacturing push-belts in the southern Province of Dong Nai.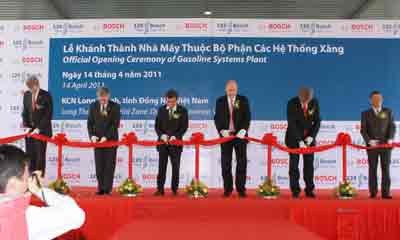 At the Inauguration of the plant (Photo: Courtesy of Bosch)
Push-belts are used for continuous Variable Transmission (CVT) in automobiles. The euro 30-million (US$43.3 million) plant, spanning over an area of 160,000 square meters in Long Thanh Industrial Park in Dong Nai Province, is part of the Gasoline Systems division of the German global technology and service provider.
With some 200 associates, the plant is the first hi-tech CVT push-belt production site for Bosch in Southeast Asia and the second of its kind for Bosch worldwide, after Tilburg in the Netherlands.
During its first year of operation, the plant will produce 1.6 million push-belts, which can be fitted into vehicles ranging from sub-compact cars to sports utility vehicles with diesel, gasoline or hybrid engines. It is projected to increase this investment to a total of some 55 million euros and employ 800 associates by 2015.
Dr. Rolf Bulander, President of the Bosch Group Gasoline Systems division, commented on the opening, "With the majority of our customers located in Asia, we expect our production volume in the new facility to rise to 2.3 million units by 2015 to support the growth of the automobile industry, in particular for the Japanese and Chinese automotive markets."
Mr. Dinh Quoc Thai, Vice Chairman of People's Committee of Dong Nai Province, stated: "During its course of operation, it is expected that Bosch will fully observe the environmental protection rules, take good care of its workers, help improve their skills, and maintain the company's good quality products and prestige. On the part of the local authorities, we will create favorable conditions for the company's operations."
Among the many dignitaries attending the event were Mr. Dinh Quoc Thai, Vice Chairman of People's Committee of Dong Nai Province, Mr. Carsten Meyer-Wiefhausen, Chargé d'Affaires ad interim of the Embassy of the Federal Republic of Germany, and Dr. Rolf Bulander, President of Bosch Gasoline Systems.
In 2010, Bosch was able to expand its position in the Asia Pacific region. Its sales increased by 43 percent to 11 billion euros. This meant that the share of Bosch Group sales generated in this region climbed to 23 percent for the first time. In the years to come, it is expected to climb still further, to 30 percent. Accordingly, Bosch will invest some 2 billion euros in Asia Pacific between 2011 and 2013. On April 20, 2011, the company will open new headquarters in Shanghai. Some 2,000 associates will work in the new building by the end of 2012.