Made-in-Vietnam goods are taking the lead among Cambodia's imports and Ho Chi Minh-based exporters have posted a robust year-on-year growth of 44 percent in January to July, pointing to a bright future for Vietnam's exports to the market, the city People's Committee deputy chairwoman, Nguyen Thi Hong, said in a recent meeting.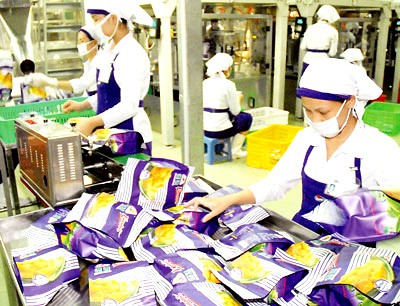 Workers at a Vinamit's factory that produces dried jackfruit, one of the company's exports to Cambodia. In the past several months, Vietnam's exports have been at the top of Cambodia imports. (Photo: SGGP)

Three years ago, Vietnamese goods ranked third in Cambodia, after Thailand and China, but the situation has changed, with Vietnam surpassing both countries.
This is partly due to concerns revolving around China's food hygiene and safety, while Thailand and Cambodia have had some diplomatic issues.
Of Vietnamese exports to Cambodia, many registered sharp growth, like instant noodles – which increased as much as 66 percent – in the past few months.
Cheap prices is the leading competitive factor in Cambodia, as local people's income remains low, so goods of reasonable quality with low prices will obtain a firm foothold in the market, the HCMC Investment and Trade Promotion Center (ITPC) said.
The range of Vietnamese exports to Cambodia has continuously expanded, including seafood, fruit and vegetables, instant noodles, iron and steel, construction materials, pharmaceuticals, plastics, garment and textiles, cosmetics, cleansers, fertilizers, pesticides, and agricultural machinery and equipment, the center said.
Obstacles to remove
However, experts warned that there remain some challenges to Vietnamese exporters, including those in HCMC.
The first, Cambodia's import duties are high, so they have to compete fiercely with Thai and Chinese rivals in terms of prices.
The second, Vietnamese businesses have yet to set up steady distribution channels in Cambodia to expand their market share.
The third, many Vietnamese companies have yet to create durable prestige for their brand name in Cambodia.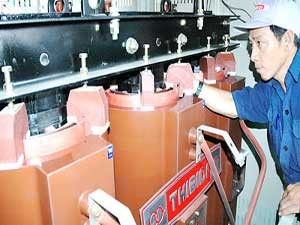 A technician at Thibidi, a manufacturer of electrical equipment, which provides transformers to the Cambodian Electricity Company. (Photo: SGGP)
To tackle these obstacles, Ms Hong said she had asked the ITPC to prepare a program to broadly introduce and promote Vietnamese goods, especially goods with a competitive edge.
The ITPC reported that it has identified four key companies that have capabilities to lead the program, namely Saigon Trading Corp. (Satra), Saigon Commercial Cooperative Union (Saigon Co-op), Saigon Industrial Corp., and Saigon Agriculture Corp.
Of these companies, Satra is a pioneer, which has effectively run a chain of duty-free shops at border-gates Moc Bai and Tinh Bien in the southern provinces of Tay Ninh and An Giang respectively.
It has also set up a system of bonded warehouses at four locations along the border with Cambodia to help the flow of Vietnamese goods into Cambodia.
It has also joined hands with a Cambodian partner, Sokimex, to build a supermarket for Vietnamese goods in the country.
To facilitate exports to Cambodia, as well as to improve Vietnamese goods' competitive edge there, the Government should help exporters by adopting support policies, such as giving investment incentives and tax reduction or exemption for a certain number of exports to Cambodia, Ms. Hong said.