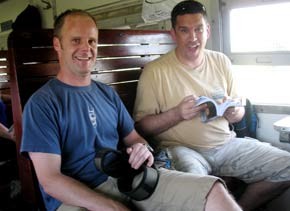 Foreign tourists travel by train through Viet Nam, where UK railway specialists visit June 3-7 to sound out business opportunities (Photo: Tuong Thuy)
A delegation of railway specialists from the UK is visiting Viet Nam on June 3-7 to showcase British expertise in the railway sector.
The team aims to identify the areas where assistance or partnership may be required for the continued development of Vietnamese railways and to match the requirements to the significant experience of British companies in both mainline and metro systems.
The mission members are leader Bob Docherty, an international business specialist from UK Trade & Investment; Neil Walker, deputy head of rail at UK Trade & Investment; Jeff Thorne, regional manager of Brecknell Willis; Jim Cudd, vice president for marketing of Invensys Rail Systems; and Tim Gray, international business development director of the Railway Industry Association.