Tiger Airways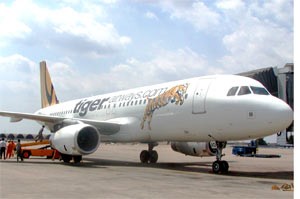 Tiger Airways' Airbus plane at Tan Son Nhat Airport in Ho Chi Minh City (Photo: Tuong Thuy)
Singapore-based budget carrier Tiger Airways began selling tickets on November 25 for its new route between Singapore and Viet Nam's central city of Da Nang. The one-way fare ranges from US$25 to US$105 for the new service, which is set to start on January 10. Flights to Ho Chi Minh City and Ha Noi, Tiger Airways will use Airbus 320 aircrafts for the new route with three flights a week.
"Our business in Viet Nam has been very good and we have to expand the network," Ta Viet Tien, Tiger Airway's chief representative in Viet Nam, told Sai Gon Giai Phong. "We plan to open a booking office in Da Nang in 2006. Also because of the influx of foreign tourists to the central city, we plan to operate flights to Macao and Taiwan from Da Nang."
The carrier, an offshoot of Singapore Airlines, began flying to Viet Nam on April 1, 2005. It operated four weekly services to Ho Chi Minh City on Sundays, Mondays, Wednesdays, and Fridays; and three to Ha Noi on Tuesdays, Thursdays, and Saturdays. The airline offers ten price levels between US$25 to about US$155. The number of flights to Ha Noi does not change. However, the carrier increased its six weekly services to Ho Chi Minh City on October 30, and plans daily flights starting from December 19, the airway's representative said.
The airline has a ticket office in Ha Noi at Suite 302, the Fortuna Hotel, 6B Lang Ha Street, and another in Ho Chi Minh City at 207 Dien Bien Phu Street, District 3.
Second no-frills airline

Tiger Airways was the first low-cost airline to begin operating flights to Viet Nam on April 1. More than 20 international airlines operate in the Viet Nam market so far, including Thai AirAsia, a subsidiary of Malaysia-based budget carrier AirAsia. This firm owns 49% Thai AirAsia, with Thailand's Shin Corp. holding 50% and Thai AirAsia CEO Tassapon Bijleveld holding the remaining 1%.
Thai AirAsia operates seven flights a week between Ha Noi and Bangkok, starting on October 17, 2005 with the lowest fare being US$25. It uses Boeing 737 planes with 148 seats and the occupancy rate is 76%, said Bui Duc Hanh, station manager in Viet Nam. There are nine price levels, and the highest one is about 20% cheaper than the fare of the same type of Thai Airways or Viet Nam Airlines, according to the CEO.
The carrier is in talks with the Civil Aviation Administration of Viet Nam for a license to fly between Bangkok and Ho Chi Minh City because the firm has seen good opportunities. "We expect an early license, maybe early 2006," station manager Hanh said.
New players will join

In March 2005, Vietnamese Prime Minister Phan Van Khai approved a consolidation plan for Vietnamese company Pacific Airlines, including acquisition of 30% stake by Singapore state investment arm Temasek Holdings. Temasek, which said the negotiations were ongoing with the government, wants to make Pacific Airlines the third low-cost carrier in the country.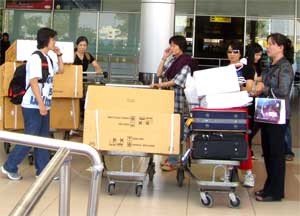 International passengers arrive at Tan Son Nhat Airport in Ho Chi Minh City (Photo: Tuong Thuy)
Other foreign low-cost carriers have applied for a license to fly to Viet Nam. Deputy transport minister Nguyen Tien Sam said his ministry supports the budget airlines because their operations would bring more chances to Vietnamese who cannot afford regular fares. He said more budget airlines would fly to Viet Nam sooner or later.
Meanwhile, Viet Nam Airlines will not consider the launching of low-cost services until 2007, said spokesman Nguyen Chan.

Why low cost ?

Low cost airline is a simple, no-frills product. Low-cost carriers operate a point-to-point network and cut all the frills in service. They provide low fares and save on costs by not providing numerous add-ons like food on board, in-flight entertainment, and printed tickets. Budget carriers have restrictions and strict policies unlike full service airlines. They generally have a lean management and efficient staff and work at very low operational costs to provide low fares.
On the other hand, full-service airlines operate from network-to-network and have all the frills in their service. They have high operational costs to maintain their service standards and in turn, their fares are steep. The advantage, however, with an open ticket passenger, is flexible to change and fly when they want.