The Government issued Resolution 13 in mid-May this year to resurrect companies that had become sluggish in recent years, particularly the building material companies affected by an ailing real estate market, but its efficacy is still under question.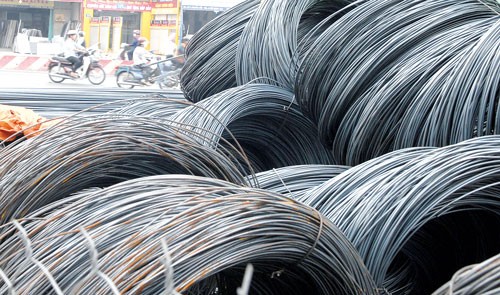 Inventory of steel rose 1.1 per cent in the first four months of 2012. (Photo: SGGP)
Data issued by the General Statistics Office shows that in the first four months of this year, consumption index of iron and steel dropped by 2.2 per cent; cement manufacturing declined by 9.5 per cent; and power cable and electric wire manufacturing decreased by 18.3 per cent.
Meanwhile, inventory index of these products rose sharply. For instance, inventory of cement surged 44.2 per cent; furniture increased 16.7 per cent; and steel and iron rose 1.1 per cent.
This situation caused by a muted real estate market and prolonged policies to reduce public investments seems to worsen as May ends.
Tran Van Huynh, chairman of Vietnam Association for Building Materials, said that building material firms were facing dire agony. The numbers of companies which had to contract or call a halt to manufacturing were increasing. Besides, these companies are about to enter the most difficult period in a year-the rainy season-- when building materials rarely have a market.
Amidst this tense situation, the government promulgated a solution package, the so-called Resolution 13, to help resolve imminent problems and revive the market, as well as reduce input expenses for enterprises.
Under Resolution 13, firms received reduction or extension on value-added tax, corporate income tax, and land rentals.
According to experts, a faster public investment disbursement will help firms resolve their high inventory of steel and cement. Although building material companies are not the main subject under Resolution 13, it is expected that building material markets with other support programmes by banks will benefit from these government measures.
However, building material companies remain pessimistic about their future. Excluding tardiness of the policy, even when heat returns to real estate market, other related industries will not recover concurrently.
All building material companies have almost run out of working capital because products are unsalable or buyers do not have money to pay. Companies appropriate capital of each other so they cannot reclaim money to turn over manufacturing while input expenses like power and fuel are increasing ceaselessly.
A cement company in the central province said that it still suffered redundancy though it was running at 70 per cent of its capacity.
Do Duc Oanh, general secretary of Vietnam Cement Association, said that high inventory was the current biggest issue in the cement industry. This year, cement industry is expected to consume around 46-47 million tonnes of cement and export 7 million tonnes which means that more than 10 million tonnes of cement lies redundant.
Currently, nearly 100 cement companies are in a miserable situation. For instance, Cam Pha Cement Joint Stock Company suffered accumulated losses of nearly VND1.26 trillion; Ha Long Cement Company VND982 billion; and Dong Banh Cement Company VND149 billion. Meanwhile, some other cement companies, including Thanh Liem Cement Company and Ang Son Cement Company have stopped working.
Steel industry also experienced a slump in consumption and high inventory. The Vietnam Steel Association forecast that the industry will have to face difficulties for at least six more months, or even until the end of this year.
Mr. Tran Van Huynh considered that the new government policy will only produce a few minor effects. Firms can barely access lending capital although banks have loosened credits. Moreover, as most firms are ailing, these measures do not seem to revive the building material market immediately. As the rainy season approaches, building material companies are switching to retail marketing, however, this will not help them recover manufacturing woes.