The building material market is seeing a serious slump as lack of new construction projects have weaned away several customers from an already gloomy real estate market.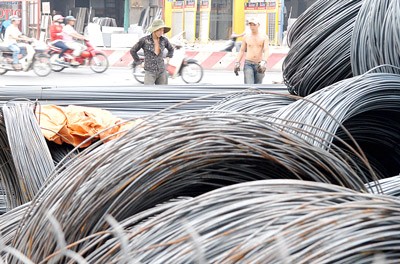 Construction material lying unsold in warehouses (Photo: SGGP)
Hoang Van Tieu, deputy director of Hoang Thien Phat Company, manufacturers of high quality building material in Binh Tan District, said that sales have gone down by 40 per cent compared to the same period last year.
Several regular customers have stopped buying building material as there are no new construction projects, added Tieu.
Similarly, Nguyen Kim Thuy, director of Hoang Son Company in Tan Binh District, said that since the beginning of the year, purchasing power has dropped by 50 per cent as compared to the same period last year.
 
According to the General Statistics Office, cement stocks of 3.5 million tonnes, steel of nearly 400,000 tonnes, and paving tiles worth VND2 trillion (US$95 million) are lying unsold.
Vietnam Steel Association forecasts that about 20 per cent of steel businesses will go bankrupt in 2012 if the gloomy conditions continue to prevail in the real estate market.
At present, steel companies like Viet Steel and Thep Van Loi have either reduced 50 per cent of their capacity or halted operations altogether. Several other companies are operating at only 30-40 per cent capacity.
Nguyen Tran Nam, Deputy Minister of Construction, said that to overcome this difficult situation, businesses should take the initiative and seek foreign buyers.
For instance, they can attend overseas fairs and exhibitions for building materials, contact Vietnamese commercial affairs organisations in other countries and work with them to increase business opportunities.
They should also now invest more on advertising their brands, he said.