Gold and dollar rates continued to fluctuate with more uncertainty in the market.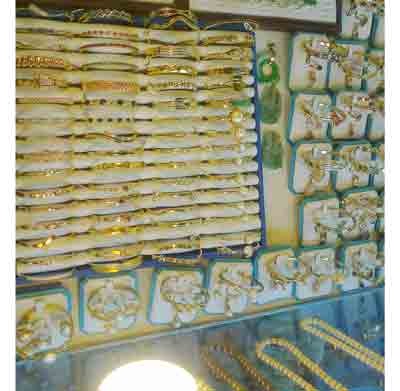 Gold and dollar fluctuate in 2011 (Photo: U.P)
Today, selling price of gold increased by as much as VND6.6 million a tael compared to prices recorded early in 2011, hovering around VND36 million a tael.
Hanoi-based Phu Quy Jewelry Company purchased SJC-brand gold at VND42.52 million and sold at VND42.75 million at 2.02pm Vietnamese.
The last days of 2011 saw the bullion market fluctuate. Gold once topped the VND49 million per tael mark in late August, an all-time record high. Many investors scrambled to buy the metal at that time.
In August, Nguyen Van Giau, former Governor of State Bank gave the green light to import bullion to reduce the price fever. However, it could only calm the market for a short time.
Nguyen Van Binh, Governor of State Bank, has adopted many measures to stabilize the price of gold.  He allowed Saigon Jewelry Company (SJC), the biggest gold processing and trading company in Vietnam, and five other banks including DongA Bank, Asia Commercial Bank, Techcombank, Eximbank, Sacombank, to reopen international gold trading accounts to help narrow the gap between domestic and international prices.
Earlier in November, a draft decree on gold trading management was submitted to the government, aimed to make SJC the national gold brand name. Accordingly, other gold brands such as Bao Tin Minh Chau, Sacombank and Phu Nhuan Jewelry Company lost customers to SJC.
At present, domestic gold is VND2.5 million a tael more expensive than global gold.