The Degree 01 for issuing shares has been in effect since January 4 of last year but the Finance Minister has yet to lay down the guidelines for its implementation.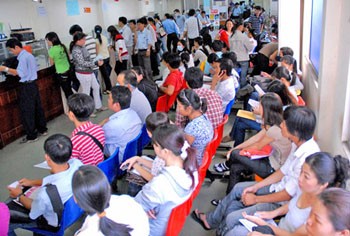 Businesspeople awaiting their turn at the registration division of the HCMC Department of Planning and Investment (Photo: SGGP)
The ministry has not yet sent out any circular to carry out the degree which is causing an inconvenience to companies.
According to the degree, all joint stock companies that want to sell shares, issue more stocks or raise the capital of their current stock holders must register with the departments of planning and investment.

The departments on their parts don't know how to deal with the documents because the Ministry of Finance has not yet issued any guidelines.
For the last one year, staff in the Ho Chi Minh City Department of Planning and Investment has suffered complaints from business houses on a daily basis as their documents have not yet been received.
The department has forwarded the complaints to the city People's Committee and the Ministry of Planning and Investment and asked for a resolution. These two bodies have further asked the Ministry of Finance to deal with the issue but there has been no reply in the matter.
Before the degree had been put to effect, documents for issuing stocks had been processed by the State Securities Commission of Vietnam. The Department of Planning and Investment was never involved, hence now they don't know how to tackle and approach the business documents without specific guidelines from the Finance Ministry. Up to 85 percent of joint stock companies are stranded with the present status of the degree now.