Ports in Mekong Delta to Be Upgraded
 
With assistance from the Ministry of Transport, provinces in the Mekong Delta have been implementing projects worth US$248 million to upgrade ports in the region.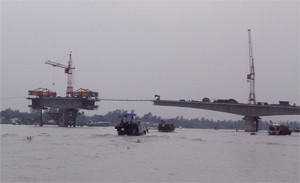 Can tho bridge is under construction to link Mekong Delta provinces (Photo: H.Yen)
Those projects were aimed at raising each port's capacity to receive ships of 3,000-5,000 tons and upwards so the port will be able to handle up to 13 million tons of goods a year.
Four wharfs in Cai Cui port in Can Tho City are being built to receive ships of 20,000 tons and 2.5 million tons of goods a year. The port's first wharf was completed and the remaining ones are expected to come into operation by 2010.

An upgrade of the Hoang Dieu and Tra Noc ports has been completed and a sea route linking the Hau River to the Dinh An sea gate will serve ships of 10,000-20,000 tons. Other ports in the Hau and Tien rivers will be renovated soon.
 
Ca Mau Gets Nod to Build Three More Industrial Parks
 
The prime minister has given Ca Mau Province the go-ahead to set up three more industrial parks: Hoa Trung, Song Doc, and Nam Can.
 
These parks will give Ca Mau many advantages in terms of industry by 2020.
 
Hoa Trung Industrial Park will cover 235 ha and will be devoted to seafood processing and export. The 515-ha Nam Can Industrial Park currently has a seaport and a shipbuilding facility that can build ships as large as 30,000-tons. Song Doc Industrial Park will be a center for making cattle-feed from seafood. 

 
Dung Quat Receives $269 million for New Projects
 
 
Dung Quat Economic Zone has licensed 13 industrial and service projects worth VND 4,300 billion (US$269 million) since early this year, said Mr. Nguyen Trung, deputy head of the Dung Quoc EZ's Management Board
 
The new projects include a VND 257 billion steel plant, Thien Duc Thread Plant worth VND 300 billion, and Gia Dat Luxury Villa Complex worth VND 100 billion.
 
Until early this month, the Economic Zone has licensed 89 investment projects with a total capitalization of VND 84,435 billion (US$5.3 billon).
 
The Economic Zone is in the central province of Da Nang and has been designated for various projects, including oil refining, petrochemical manufacture, heavy industries, consumer goods, export-oriented goods, bonded zones, as well as financial, banking, and tourism services.
 
Dung Quat has a deep-sea port, Chu Lai airport, and the industrial-service towns of Van Tuong and Doc Soi.