More than VND1,700 Billion Invested in Cat Bi Airport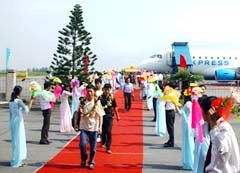 Cat Bi Airport

Prime Minister Nguyen Tan Dung has approved a project for upgrading and expanding the Cat Bi International Airport in Hai Phong city at a cost of VND1, 700 billion (US$105 million) from now until 2015 and 2025.



The planned upgrades will raise the airport's classification allowing landings by larger aircraft, including the B777, B747-400, and A321, on international flights. The upgrades will also enable the airport to process passengers at a rate of 800-1,440 per hour and 17,000-82,000 tons of goods per year.
Construction of Cam Pha Thermoelectric Plant Kicks Off

Construction of the second phase of the Cam Pha 300MW-capacity thermoelectric plant was kicked off. China's Harbin Power Equipment Group won the US$332-million contract. The project is invested by Viet Nam Coal and Mineral Industrial Corporation and Viet Nam Industrial Construction Corporation. The thermoelectric plant is expected to come into operation in 2010.
US$80-Million Garment Factory to Be Built in Quang Tri

Construction of an US$80-million garment factory is being carried out in the Dien Sanh industrial village of the central province of Quang Tri. The Hai Lang garment factory is financed by Coast Phong Phu Co., Ltd., and covers an area of more than 20,000 square meters. It specializes in manufacturing and exporting kaki cotton trousers. The plant is to be completed in October, produce some 3.5 million items a year and creates jobs for more than 1,000 employees.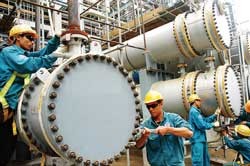 Employees of Lilama are still at work on the New Year's Day holiday.
Four-Star Hotel in Dung Quat Economic Zone
Duc Long Dung Quat Co., under the Duc Long Gia Lai Group, last Friday broke ground on a four-star hotel site in the Dung Quat Economic Zone in Quang Ngai Province. The 105-room hotel has investment capital of VND106 billion (around US$6.5 million) and is scheduled for completion in late 2009.
Dung Quat Petroleum Refinery

More than 4,600 employees of Viet Nam's machinery installation giant, Lilama, were scheduled to work on the New Year's Day holiday to help complete the Dung Quat refinery by July. The factory is to start operating in the first quarter of 2009.