DHL, VNPT Form Joint Venture
 
Germany's DHL and the Viet Nam Post and Telecommunications Group have formed Viet Nam's first express delivery joint venture 18 years after they began doing business together.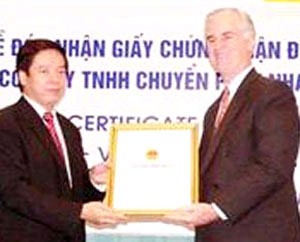 At the investment license granting ceremony
A license for the joint venture was made public in Ha Noi on November 8.
DHL says the joint venture will not affect its present customers or interrupt its express delivery services.
Stephen Fenwick, DHL Group's senior vice president for South Asia and Indochina, says the joint venture shows the important progress being made in DHL's operational and developmental strategies in Viet Nam.
Boeing Sponsors APEC
 
Boeing Corporation signed a US$250,000 cash sponsorship contract with the APEC financing campaign committee yesterday.
 
The deal makes the U.S. aircraft manufacturer the 11th Special Sponsor of APEC 2006 Week.
 
It also brings the number of APEC sponsors to 40 and the sponsorship commitments to VND85 billion (US$5.3 million).
Fahasa Listed Among Top 500 Asian Retail Companies
Fahasa, or the Book Distribution Company of Ho Chi Minh City, has won a Retail Asia-Pacific Top 500 Award for the 500 leading retail businesses in the region.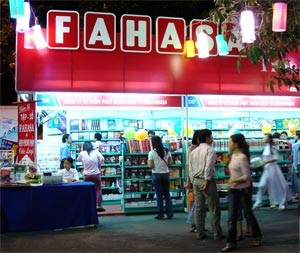 Book fair 2006 in Ho Chi Minh City (Photo: V.H.)
The Retail Asia-Pacific Top 500 was launched in 2004 as the retail industry's first regional ranking of the top 500 retail companies.
Top 500 companies are ranked according to Euromonitor International's market research based on the companies' number of retail outlets and sales as well as their market share and ability to develop and given Gold, Silver or Bronze Awards.
The research covers Australia, China, Hong Kong, India, Indonesia, Japan, Korea, Malaysia, New Zealand, the Philippines, Singapore, Thailand, Taiwan and Viet Nam.
Fahasa's recognition is a good sign for the local book distribution sector as foreign publishers view Viet Nam as a market of great potential.
Fahasa's turnover was VND448 billion last year and is estimated to reach VND500 billion this year.