Entrepreneurs are hailing a national plan to reduce corporate income tax for small- and medium-sized enterprises from 20 per cent to 17 per cent starting next year.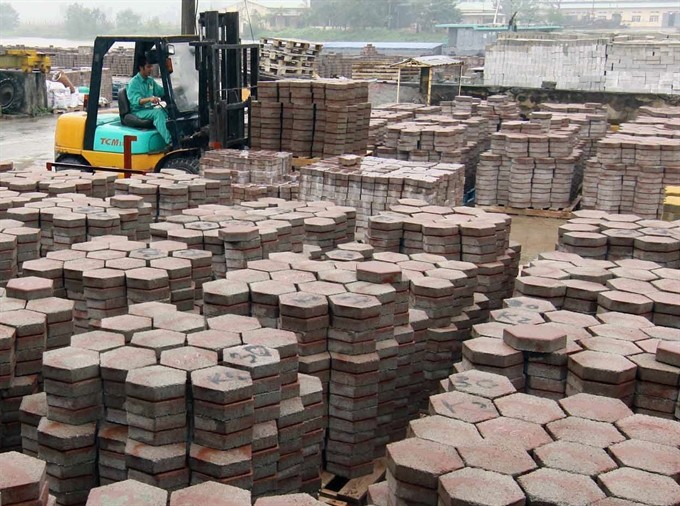 A worker arranges bricks at Thanh Phúc Mechanics and Building Materials JSC in northern Hải Phòng city. Việt Nam is stepping up measures to improve business competitiveness as it integrates more deeply into the global economy. — VNA/VNS Photo Vũ Sinh
In a recent proposal submitted to the Government, the Ministry of Finance said businesses making less than VNĐ20 billion (US$893,000) in revenue per year would enjoy the lower tax rate for four years, from January 1, 2017.
This was among the incentives included in a draft resolution of the National Assembly on tax measures to help domestic business improve competitiveness as Việt Nam integrates into the global economy.
The ministry expects this policy to benefit some 430,000 small- and medium-sized enterprises (SMEs), or 86 per cent of 500,000 SMEs operating nationwide.
"The tax reduction will help us save hundreds of million of đồng anually, and we will use this amount to invest more in human resources and product development," said Tăng Văn Khanh, director of the investment firm K&G Việt Nam.
Khanh told Việt Nam Television (VTV) that this was important for his company, which was meeting financial difficulties four years after its establishment.
Tống Quang Huy, director of the paper company Hải Tiến, told the Voice of Việt Nam (VOV) that SMEs were facing obstacles in production and distribution. With the tax reduction, they would have more resources to expand.
"Supermarkets are seeing fierce competition from foreign retailers. We are very glad about a tax drop," Tạ Minh Sơn, who directs Tứ Sơn supermarket in the southern province of An Giang, told VTV.
Lê Thanh Mẫn, deputy general director of the trading firm Nguyễn Huệ in An Giang, told the television "It is good that the authorities see the point. Such a policy is likely to stimulate business growth and efficiently growing businesses will foster tax development."
Phạm Đình Thi, head of the ministry's Tax Policy Department, said SMEs with annual revenues of up to VNĐ20 billion currently contribute a combined VNĐ2.46 trillion to the State budget.
When the corporate income tax is slashed to 17 per cent, State budget revenues will decline by some VNĐ473 billion a year.
"We see such a tax cut as reasonable in the current context. It will create certain motive for enterprises to develop while not affecting the State budget, which is bearing burdens," Thi said.
The ministry said the corporate income tax had already been sharply cut over nearly two decades. It was 32 per cent in 1999, 28 per cent in 2004 and 25 per cent in 2009, before falling to 22 per cent in 2014 and 20 per cent this year.
The current level is significantly lower than a rate of 30 per cent in the Philippines and 25 per cent in China.
A law on supporting SMEs, which is being drafted by the Ministry of Planning and Investment and expected to be submitted to the National Assembly in October, defines SMEs as companies making less than VNĐ100 billion in revenue per year.
Despite this, the finance ministry said corporate income tax should only be given to firms making less than VNĐ20 billion in annual revenue in order to avoid a significant decrease in budget collection.
It said budget collection could drop by VNĐ1.5 trillion each year if the 17 per cent tax was applied to businesses making less than VNĐ100 billion in annual revenue.
"Tax is not the main point. It is important for us to make sure the business environment is equal for enterprises to compete healthily," Thi said.
Official data indicates SMEs contribute some 46 per cent to Việt Nam's gross domestic product and 31 per cent of all tax revenues, employing 60 per cent of the country's workforce.