Many businesses still hesitate to opt for electronic invoices as they doubt the safety of the new invoice, which will be applied from May 1st.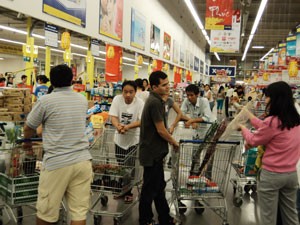 Shoppers line up to wait for their bill at a HCMC-based supermarket. Many businesses say they doubt the electronic invoices' safety (Photo:Minh Tri)
The Ministry of Finance announced that it will allow businesses to use electronic invoices next month in an effort to speed up their business process.
The invoices, often known as the "red invoices" in Vietnam, are mainly used as official proof for tax-related purposes.
The electronic invoice will enable local businesses to save a lot of time as they can store the invoices in their computer and will not have to print them, expert said, adding that they can also insert their company's logo into the electronic invoice.
However, surveys from Dau Tu Tai Chinh Newspaper show although the circular regulating on electronic invoice will take effect next month, most businesses still hesitated to register for the new invoice.
Nguyen Minh Nhat, director of a transport firm in District 3, said tax invoices were considered as an asset of every company, thus he had to be very cautious on the new invoice.
"We will wait for the electronic invoice to prove its effectiveness before opting for it as we are concerned that the invoices has high risks of being hacked or faked easily, which will cost us a lot," Le Nguyen Phuong Mai, deputy accounting manager in a Ho Chi Minh City-based company, said.
Nguyen Hong Minh, director of a glove maker in Binh Tan District, told Dau Tu Tai Chinh Newspaper that the he wondered whether director or chief accountant of a company would be responsible for electronic invoices.
Most local businesses also look set to struggle with the new invoice, which will require computer knowledge, Minh noticed.
Analysts said there was a significant deterrent in popularizing digital signature in Vietnam, which is the businesses' worry about the liability hierarchy when using digital signature.
For example, a tax declaration form normally requires the signature of form maker, the accountant, chief accountant and eventually business leader. If a business applies digital signature, only business leaders are in charge of signing, which some businesses may feel insecure.
Ngo Tuan Anh, director of the certification authority service provider Bkav Telecom, proposed to provide guidelines on installation and usage of digital signatures for local businesses in order to convince them of the safety of the service.
Nguyen Ngoc Le, head of business department of the software developer Misa, said the firm has cooperated with Bkav to integrate digital signatures into Misa's accounting program.
Tran Thi Le Nga, head of the Propaganda and Taxpayer Support Division of the HCMC Tax Bureau, said the bureau was planning to carry out training courses to help local businesses gradually approach the electronic invoice.
According to the Ministry of Finance, organisations opting for electronic invoices will have to register for tax agents. They will also be required to send a notification on issuance of electronic invoices to the tax agency before using electronic invoice.