Several award ceremonies were held yesterday in Ha Noi to honor Vietnamese enterprises and businesspeople, part of this year's Viet Nam – WTO Trade Fair which marks one-year anniversary of Viet Nam officially entering the global trade bloc.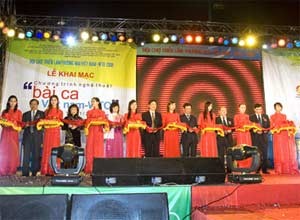 Opening ceremony of the Viet Nam - WTO Trade Fair
They were "The 2007 Golden Globe", "The 2007 Vietnamese Star" and "The 2007 Vietnamese Quintessence" in which outstanding entrepreneurs and businesses were honored at the National Conference Center for their excellent services and products in 2007.
A total 41 products and services were granted the "2007 Vietnamese Quintessence" Award, 50 entrepreneurs, businesses received "The 2007 Vietnamese Star" Award while 92 others were bestowed "The 2007 Golden Globe".
Notably, Nguyen Tuan Diep of Ha Noi won a US$15,000 cash award after winning first prize in "the Study about WTO" contest.
The Viet Nam – WTO Trade Fair was held from January 12 to 17 to showcase the country's economic achievements in its first year as a World Trade Organization member.
According to Mr. Luong Van Tu, head of the fair organizing committee, this would be a high-profile exhibition which helps direct consumers' view in terms of product and service quality in the integration era. At the same time, it would be a chance to honor businessmen and enterprises as well as their products and services.
The fair has drawn over 300 foreign and local entrepreneurs and major groups including Vincom, Vinpearl, the Viet Nam Textile and Garment group and the Bank for Investment and Development of Viet Nam so far.