Some businesses managed to survive from the shortage of capitals, which was caused by high lending interest rates by various ways.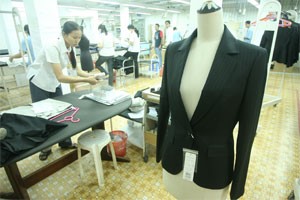 An employee works at a textile factory in Tan Binh District in HCMC. Despite the increasing input costs, some businesses are eager to reduce the return rate instead of raising retail prices (Photo:Minh Tri)
Le Thi Phuong Dung, director of Mai Hoa Trading and Service Ltd., said her company curbed the capital shortage problem by asking customers to pay instantly for every purchase orders.
"Earlier, customers used to pay in advance for big orders and negotiate to pay the rest in a certain period. We had to borrow money from banks to cover those big debts, which can affect our production," Hoa said.
"However, with the surging lending rate this year, we had to opt for instant cash payment for each purchase to make sure that we always have enough capitals for the production," she said.
"This is just a temporary measure as most customers certainly find it inconvenient." Hoa told Dau Tu Tai Chinh Newspaper.
Some businesses said they placed orders with lower quantities in an effort to help each other have enough capitals for production.
Le Van Tri, deputy general director of the tire maker Casumina, said "the firm spent a lot money to maintain a large inventory in previous years. The stores have been freed up since last year in order to save money for production."
Tri added his company is now focusing on improving quality and reducing input costs by changing product designs.
Despite the increasing material costs this year, some businesses opted for reducing their return rate, instead of raising their product prices.
"Instead of raising the selling price, we increased our output as we are willing to reduce return rate. The return rate will likely to decline, but the sales will move up," said Dang Chi Hung, director of the kitchenware producer Kim Hang.
Hung also added that the firm was focusing on expanding to rural areas, which have an "unexpected strong consumption" and foraying into new foreign markets including ASEAN countries and Africa.
The fan maker Asia followed a similar pattern, keeping its retail price unchanged in spite of the 10-15 percent increase in material prices early this year.
"We are trying not to raise our price as the demand on the retail market remains low. Raising the retail prices now will make the sales plummet," said the fan producer's chairman Vu Dinh Phuong.
Economist Le Tham Duong warned that businesses should set up risk management plans before seeking capitals from long-term loans.
Than Y Nam, financial manager of the Saigon Industrial Corporation, recommended credit organizations should prioritize providing loans for businesses in productive sectors.