Several businesses have rushed to buy rice for export contracts amid price increase in the Mekong Delta where the summer autumn crop has entered peak harvest time.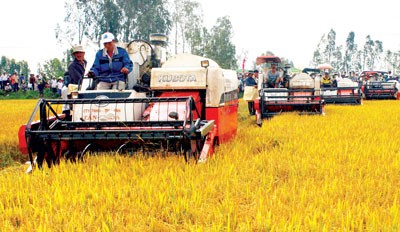 The Mekong Delta is amid harvest time of the summer autumn rice crop (Photo: SGGP)
Traders paid VND5,300 a kilogram of fresh rice, which fetched only VND4,300-4,500 a month ago, said farmer Tran Van Het from Tam Binh District, Vinh Long Province.
Businesses are rushing to buy rice partly for export contracts that they had signed, according to a local business.
Vietnam has exported over 3.34 million ton rice worth US$1.5 billion since early this year, reported the Vietnam Food Association (VFA).
Several companies did not stock up rice when the prices were low two months ago and expected to further decline. Earlier, they signed contracts to export to the Philippines at only US$370 per ton.
Domestic price increase has pushed export price up to US$385-390 per ton, which might cause them US$15-20 in loss a ton now.
Rice price have been up by VND300-500 per kilogram compared to that two months ago. Highest increase was on long grain variety which price has hiked VND700 per kilogram, according to VFA.
The long grain rice has fallen into a scarcity over the last one month because last year reserves have run out, according to businesses in the delta.
Another reason for the scarcity is increasing demand for export contracts to the Philippines, Malaysia, Africa and China, they said.
Farmers do not sell harvested rice hoping for further price increase (Photo: SGGP)
Director of an export company said that farmers have expanded cultivation area of fragrant rice shrinking long grain rice area.
The rice price increases but it does not mean that farmers have profit because most of them sold rice at low prices in the winter spring crop which is the main crop every year.

The prices were not high in the beginning of the summer autumn crop. Rice production has completed two thirds this year.
Experts said that Vietnam might export 7 ton rice this year, far higher than VFA's forecast of 6.5 million tons and the prices will continue moving up in the next couple of days.