Businesses have worried that the sharp fall in November Consumer Price Index might be due to demand reduction, however Associate Professor Le Vu Nam from the Ho Chi Minh City University of Economics and Law has advised them not to worry and change their production plans.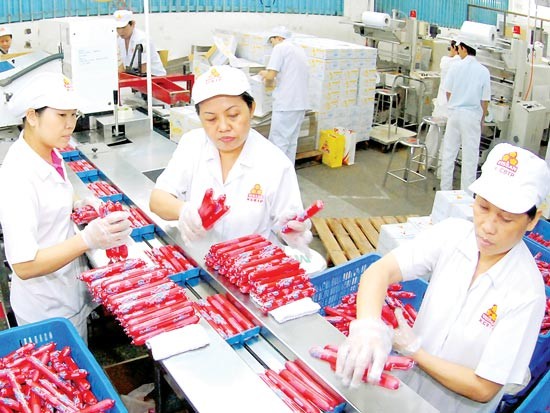 Sausage production at Vissan Company (Photo: SGGP)
Vietnam's CPI dropped 0.27 percent in November, the lowest reduction for the last several years and the second fall since March this year.
The CPI reduction proved effectiveness of the Government' efforts to curb inflation, stabilize macro economy, and ensure social welfares, Mr Nam said.
According to statistics, the prices of main items in the basket of commodities used for CPI calculation sharply decreased in November. These items include food, catering services, housing, construction materials, electricity, water, petrol and gas.
Of these, food and catering services fell only 0.03 percent over October while the group of housing, construction materials, electricity, water and fuel dropped as much as 0.74 percent over the previous month.
Retail gas price has reduced VND40,000 a 12 kilogram cylinder since November 1 and petrol prices have continuously fallen, dragging down the prices of other goods and services and resulting in CPI reduction in the month.
Therefore, Mr. Nam believed that the CPI reduction has not to show a sign of down purchasing power and will not much affect businesses. Therefore, businesses should not change the production plans in up coming months which is predicted as the busiest shopping time every year.
They should take advantage of the reduction of interest rate, fuel price and transport fee to promote marketing and advertisement for their products, Mr.Nam concluded.