An appeal by the Politburo to use domestic goods has helped at least the dairy industry with consumers responding to the appeal.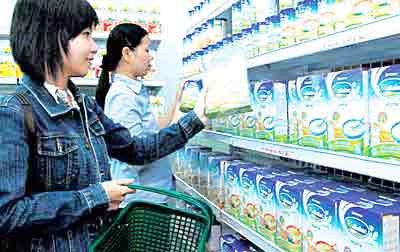 Local dairy products are making a comeback in HCMC following an appeal by the Government to use Vietnamese goods and a crackdown on quality by local authorities following quality issues earlier this year (Photo: SGGP)
Manufacturers have improved quality and lowered prices and Vietnamese-made dairy products are now on display at many shops on Ho Chi Minh City's Nguyen Thong Street, a main market for milk products.
A salesperson at a shop called Nguyen Muoi said parents are considering domestic products more than before.
Another shop, Vu Hao, said sales of Vietnamese milk products have risen three-fold.
The quality of dairy products has been steadily improving since some scams earlier this year led to a crackdown by authorities. A recent test of 60 samples taken from 30 manufacturers and supermarkets found 90 per cent of them meeting national quality standards.
The head of the health ministry's Food Hygiene and Safety Department, Nguyen Cong Khan, said, however, that official agencies should closer control over milk quality and prevent low- quality milk from distribution.

Related articles:
Politburo wants people to consume local products to prop up economy