More domestically made goods have appeared in the Ho Chi Minh City market and are being bought since the Politburo approved a program to encourage people to buy local.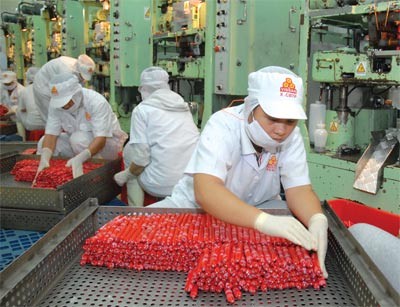 Sausages being made for the local market at Vissan Company. A Government program to encourage purchase of Vietnamese-made goods and services has made a bright start, according to retailers (Photo: SGGP)
Ngo Van Hai, deputy director of Citimart Supermarket, said 80-90 percent of the goods on his shelf are made in the country and more popular than imports because of their lower prices.
 
In the three weeks since the launch of the program, sales of many Vietnamese-made goods like plastic household products, milk, and processed and canned foods have soared.
 
Duong Thi Quynh Trang, PR director of Big C Supermarket, said local goods occupy 95 percent of Big C's shelves.
 
At the 38 Co.opMart outlets nationwide, Vietnamese goods make up 90 percent, especially fresh and processed foods and household goods.
 
Even electronic and electrical products are faring well, according to some retailers.
 
Vu Vuong, marketing director of Cho Lon electronic supermarkets, said Vietnamese brands like VTB television, Tien Dat DVD players, and Asia and Lifan fans are popular.
 
Nguyen Thi Quyen, marketing deputy director of Thien Hoa electronic supermarkets, said: "We always give priority to Vietnamese products. However, investment in this industry has yet to be focused so there are not many Vietnamese products that can compete against foreign ones."
 
An unnamed analyst said Vietnamese producers have an advantage since they understand consumers' habits but they need to develop long-term strategies in terms of quality and pricing.
 
Importantly, producers need to develop their local market first before looking at exports, the analyst said.
 
They have to cut costs to compete against imports, focus on business ethics, and expand distribution in rural areas. Chinese goods dominate most rural markets now, the analyst said
 
Businesses need to have professional personnel and talented leaders, improve technologies, and establish a quality management system, the analyst said.
Related articles:
Vietnamese goods not as popular as imports
Politburo wants people to consume local products to prop up economy