Prime Minister Nguyen Xuan Phuc yesterday launched a patriotic emulation movement themed, "Vietnamese businesses towards integration and development" at a ceremony held in Ha Noi on the occasion of Viet Nam Entrepreneurs' Day (October 13).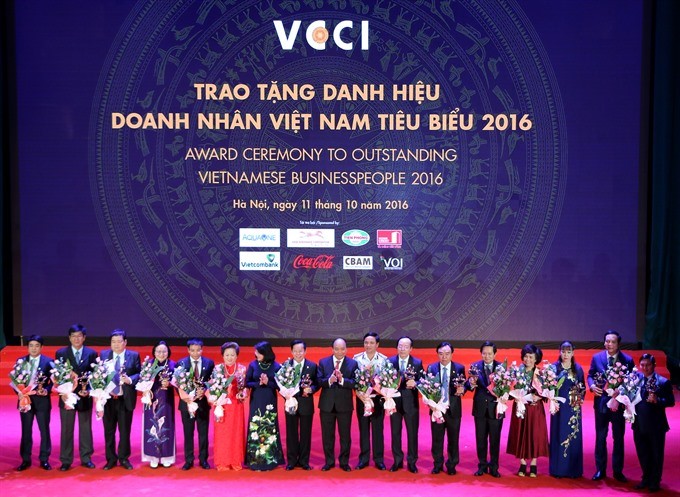 Prime Minister Nguyen Xuan Phuc presented Thanh Giong Cup, the symbol of strength and aspiration of the Vietnamese business community, to the 100 prominent entrepreneurships of 2016. - VNS Photo Đoàn Tùng
Phuc affirmed the Government's determination in improving the business environment, urging firms to be active in grasping opportunities to make breakthroughs amid rapid international integration.
At the conference, Phúc presented the Thanh Giong Cup, a symbol of the strength and aspirations of the Vietnamese business community, to 100 prominent entrepreneurs of 2016.
Vu Tien Loc, Chairman of the Việt Nam Chamber of Commerce and Industry (VCCI), said that 2016 would be the first year to have an historic 100,000 newly-established firms.
Loc said at the Việt Nam Businesspeoples Forum 2016 held on the same day, that the global technology revolution coupled with the Government's hastened efforts in improving the business climate are enabling Vietnamese firms to reach global standards.
Loc said the role of businesspersons in the socio-economic development had a new dimension, which was different from traditional concepts. "Advantages are no longer in the hands of the traditionally strong, but with those who own innovation, technology and digital resources," he said.
"The technology revolution is an opportunity for Vietnamese businesspersons to make breakthroughs," Loc said, adding that reaching global standards is critical to keep up with the world's development trends and build a community of one million efficient businesses by 2020.
Việt Nam now has about 900,000 registered businesses but only 520,000 of them are actually operating.
In the next phase, the picture of the business community will be painted by strong entrepreneurship and innovation, as traditional advantages such as cheap labour and resources would be gradually getting exhausted.
"I see a new trend developing in which businesspersons are more adaptive to an innovative economy."
Speaking at the forum, Ray Sanket, CEO of Coca-Cola Việt Nam, said the secret for the success of the global beverage company, serving its products to billions of consumers in more than 200 countries every day, was innovation.
Transparent mechanisms
"Vietnamese entrepreneurs need an ecosystem in which their innovations are promoted," Loc said, adding that this would require the government making efforts to hasten improvement of the business climate.
Firms are not as worried about competition as much as they are about a mechanism which lacked transparency and unstable policies, according to Lộc.
"Businesspeople are those who understand the market trend better than anyone. They do not need the government to tell them what to do. What they need is a stable and favourable environment where they don't have to rely on a relationship to do business," Lộc said.
The Government of Việt Nam has hastened efforts to overhaul the business environment and building an upright government.
"Chances are there for businesses, but greater efforts are needed to build a development-friendly government and promote a business community with high competitiveness." "Knowledge will be the core, innovation will be the engine to drive business," he said.