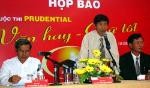 A social activity of life insurer Prudential Vietnam
(SGGP)- Individuals and organizations in Vietnam can ring hotline (04) 9428461 to tell any complaint on issues, problems or dishonest activities in the country's insurance sector.
The Vietnam Insurance Association has set up the hotline to help crack down fraud and dishonest activities in the sector, said Phung Dac Loc, general secretary of the association.
Based on the feedback from individuals and organizations and the Law on Insurance related documents, the association will work out punishments against dishonest people or report the cases to authorized officials.