Exporting Vietnamese products to Cambodia is beneficial to both countries, however, in order to hold onto this market, Vietnamese firms must remain proactive and consistently advertise their brands and improve quality of their products and services.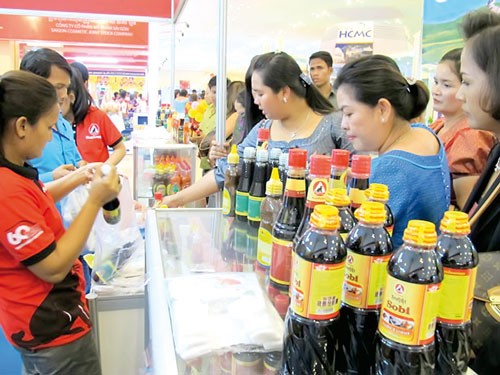 A Vietnamese food stand in Cambodia. (Photo: SGGP)
In the last few years, Vietnamese exporters have seen Cambodia as a potentially lucrative market for investments and consumer products. Because most consumer goods in Cambodia are imported, Vietnam can easily fulfill this void and offer products of quality, better design and price.
According to Vu Thinh Cuong, commercial counselor of Vietnam in Cambodia, trade between Vietnam and Cambodia reached US$2.8 billion last year, of which trade surplus from Vietnam was around $2 billion.
During the first months of this year, Vietnam intensified trade links with Cambodia. As a result, exports from Vietnam are expected to top $3.5 billion with potential for more consumer goods to flood the market.
A representative of Ba Vi Milk Joint Stock Company said that his company has started to sell their products at Vinamart -- the supermarket that specializes in made-in-Vietnam products in Cambodia, since the beginning of the year. The business results achieved in this market have urged the company to increase exports of dairy products to Cambodia.
Tang Quang Trong, sales manager of Dai Dong Tien Plastic Company for Indochina, said that demand for consumer goods in Cambodia is huge and several Vietnamese products already have the upper hand. As for household plastic goods, Vietnamese products surpass Thai products, holding 80 percent of market share. In 2011, revenues of Dai Dong Tien topped VND20 billion from sales in Cambodia. For this purpose alone the company has built a warehouse in Cambodia to increase its distribution network.
The Cambodian market offers many business opportunities for Vietnamese retailers, who have an array of consumer products. At the end of 2010, the first Vietnamese supermarket was established by Z38 Company, a member of Vietnam Businessmen's Association in Cambodia, which made its debut in Cambodia with an investment of more than $3 million. This supermarket has helped open doors for Vietnamese products to be in easier reach of Cambodian consumers.
In order to develop more distribution channels for Vietnamese products, Saigon Co.op set up its trade center in Phnom Penh. According to Nguyen Thi Hanh, CEO of Saigon Co.op, retail business in Cambodia is very poor hence retailers still have a lot of space to develop. However, when building a retail network, firms should coordinate with a Cambodia-based company for support and guidance.
Currently, Saigon Food Joint Stock Company and Vissan Company have been promoting their sales, established representative offices and retail stores in cities and provinces to serve Cambodian consumers.
After being in the Cambodian market for a few years, the ABC Bakery Company opened four stores with revenues surging by 40 percent annually. The company now plans to open 10 more stores to expand its network.
Although a compliance market, businessmen who enter this market first advise that it takes time and patience to succeed in Cambodia. Saigon Cosmetics Company entered the market a long time ago and has now opened stores in some provinces with revenues growing steadily. However, every year the company still has to register to join brand promotional programs to retain a hold in the Cambodian market, as it constantly faces fierce competition from China, Thailand and Japan. If the company fails to promote its brand, its products will possibly be sidelined or remain unsold in this brutal market.
Doan Xuan Nghi, head of the representative office of Thien Long Group, said that in order to achieve its current revenue of $1 million a year, the company had to consistently join brand promotional programs for nine years. Cambodian consumers are compliant but it does not mean that they will buy anything.
According to Vietnamese firms, trading is extremely vibrant between Vietnam and Cambodia. Firms have shifted from simply buying and selling to joint-venturing and associating to bring their products into this market. Moreover, the Cambodian government allows foreign companies to set up companies, branches, shopping centers, supermarkets, and stores with same benefits as domestic ones. This makes for a favorable environment for Vietnamese firms.
Imported goods from Vietnam have become more diversified and sell at reasonable prices. In many trade fairs, Vietnamese made products sell out soon after being displayed--in a matter of hours.
Firms should however remain cautious and alert, as Cambodia is an open market, and other countries may tap into the market very easily, increasing competition. Thus, firms should promote products professionally, offer attractive designs and packaging and focus on building brand image to be able to compete with products from other countries and to be able to retain their hold on this market.