The Canada Border Services Agency (CBSA)'s recent temporary anti-dumping duties on waterproof rubber footwear and rubber-sole shoes imported from Vietnam will create difficulties for rubber footwear exporters, but not the whole industry, the Vietnam Footwear and Leather Association told Sai Gon Giai Phong August 31.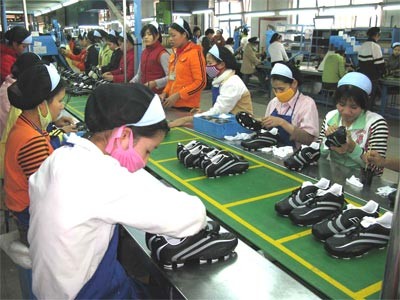 Vietnamese workers in a footwear production line
The association said the anti-dumping tariffs will not have a big impact on the footwear sector's export turnover and volume, as Vietnamese footwear exports to Canada last year made up only 0.21 percent and one percent of the industry's export quantity and value respectively.
 
Last year, Vietnam exported 620 million pairs of shoes, among which, 7.8 million pairs to Canada, 1.3 million of which were waterproof rubber shoes, which were worth US$46 million, it said.
 
However, some Vietnamese exporters who have large market shares in Canada will face difficulties, the association added.
 
The association is collecting suggestions from exporters and the Ministry of Industry and Trade to respond to the CBSA's decision.
 
Meanwhile, an official from the ministry said the anti-dumping case against Vietnamese waterproof rubber footwear, which was investigated by the CBSA, is similar to five or six anti-dumping cases against other Vietnamese goods.
 
The CBSA's temporary anti-dumping duties may change because the case also depends on the Canadian International Trade Tribunal (CITT)'s conclusion on the Canadian footwear industry's losses, said the official.
 
Therefore, the official said, giving responses will be more rational after there is a final decision.
 
The CITT will announce an official decision late September. During this time, Vietnamese waterproof rubber footwear exported to Canada will be subject to the CBSA's anti-dumping duties.
 
Under which, Vinh Long Shoe has been imposed a tax of 15.8 percent, Pou Yuen Vietnam 7.3 percent and Fulgent Sun 3.4 percent. 
Related article:
Canada accuses Vietnamese firms of dumping rubber footwear