Besra Company on July 23 announced that they have suspended operations at Phuoc Son and Bong Mieu mine sites in the central province of Quang Nam after their bank accounts were blocked by the province's Tax Department for delaying tax payment.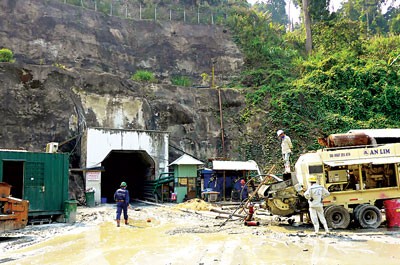 (Photo: SGGP)
This is the first time an investor was suspended for tax debt in the province.

According to the Canada-based company's announcement, mandatory measures of account blockage and invoice neutralization applied by the department since April this year has forced it to suspend operations at Bong Mieu and Phuoc Son gold mines on July 18 and 22 respectively.

The gold producer operating in Southeast Asia has temporarily postponed labor contracts to 1,000 employees and workers.

Besra has proposed local authorities in Phuoc Son and Phu Ninh Districts to assist its guard forces to ensure security at the two gold mine sites during the suspending time.

The company will continue working with provincial authorities and the Government to abolish the tax coercion.

Answering the press, deputy head of the Quang Nam Tax Department Luong Dinh Duong, said that application of the mandatory measures on Besra's subsidiaries is under the tax law.

Their delay of tax payment forced the department to block their bank accounts in accordance with the tax law, he said.

Phuoc Son and Bong Mieu companies have exploited tons of gold to export for the last several years but paid taxes moderately.

"It is impasse for the department to block the accounts of the two companies and the State doest not want any business to close down" said Mr. Duong.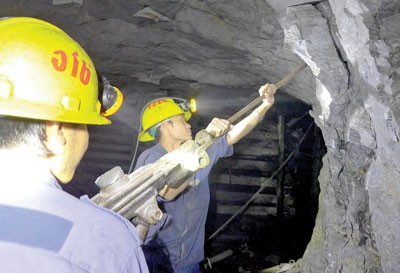 Phuoc Son and Bong Mieu Companies under Besra Vietnam have exploited tons of gold for exports but not paid taxes for the last several years (Photo: SGGP)
The department will work with Phuoc Son and Bong Mieu Companies to finalize the debt amount on Thursday. It once again wants to hear Besra's tax payment measures to report the province's People's Committee for next solutions.

In case Besra still refuses to pay their debts, Quang Nam will distrain its properties and propose business license withdrawal.

"Besra is the incomparable tax debtor ever found in Quang Nam," Mr. Duong said.

Phuoc Son's tax debts have reached nearly VND300 billion (US$14.15 million) including personal and business income taxes, natural resource tax and environment protection fee. It has owed VND100 billion since the last yearend. Bong Mieu's debts have totaled VND51 billion.

According to Vietnam's law, over 90-day due debts must face distraining.