The National Office of Intellectual Property of Vietnam has officially recognized the 'Cao Lanh Mango' from Cao Lanh District in the Mekong Delta province of Dong Thap as a brand name.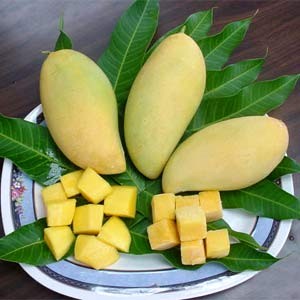 (Internet photo)
The 'Cao Lanh Mango' was awarded the brand recognition certificate during the trade and investment promotion exhibition in Dong Thap Province, which took place from December 10-15.
A representative of Café Control Vietnam Company granted the Global GAP Certificate to My Xuong Mango Cooperative in Cao Lanh District.
At the ceremony to present Cao Lanh Mango to the public, representatives of Japanese Tasaka Company and two other enterprises in Hanoi and Ho Chi Minh City signed a mango dealership agreement with My Xuong Cooperative for 2013 and subsequent years.
Cao Lanh Mango now has two varieties--the Cat Chu and Hoa Loc varieties.
The recognition of Cao Lanh Mango as a brand name is the result of   efforts made by 25 members of the My Xuong Cooperative and many other mango growers in Cao Lanh District.
Cao Lanh District is a mango-growing area with 3,500 hectares under mango groves providing more than 30,000 tons of mangoes every year.
Cao Lanh Mango is grown in accordance with Global GAP and VietGAP quality standards, which are safe for consumer health.