There has been a boom in car and motorbike sales lately, leading to increased prices.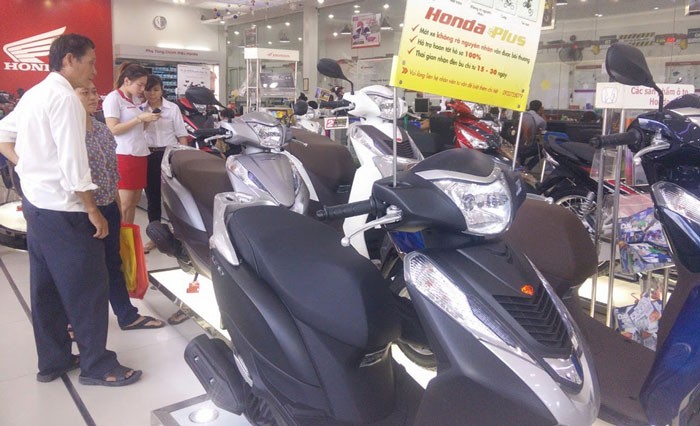 Scooters are displayed in Viet Quan Thai shop in District Go Vap (Photo: SGGP)
Automobile showrooms in Ho Chi Minh City are crowded with customers. Shop assistant Dang Thi Ngoc Sang of Viet Thai Quan automobile shop on Quang Trung Street in Go Vap District  said that there has been an increase of 30 percent in purchasing power with 40 motorbikes being sold a day. Of which, all scooters account for 80 percent at the price of VND35-45 million ($1,550-$1,993).
Apart from which, SH scooters at the cost of VND85-115 million are not available in the shop. Because of increased demand but decreased supply, it takes at least three days to have a scooter if a customer wants to buy.

Additionally, prices of SH scooter at automobile shops are sold higher  than that of producer. For instance, SH scooter 125 is sold VND80 million, 12 million higher than producer's listed price.
Air Blade, Lead scooters are listed higher than producer's prices yet they are sold like hot cake.

Similarly, Yamaha scooter also hiked compared to the previous price. For instance, Yamaha deluxe scooter is worth VND53 million, up VND2 million compare to producer's price.

On the contrary, market for motorbikes of other brand names is sluggish. Shops can sell one vehicle a week. SYM Shark Mini 125 EFI is sold VND29 million, a decrease of VND600,000 compared to the producer's price.

Demand for car also increased this year with vehicle new comer of VND1.2 billion. Agents of Toyota and Ford said that sales of car in the fourth quarter increased from 30-40 percent or averagely an agent sells 400-600 vehicles a month. Customers even pay more ten to hundreds of Vietnamese Dong to have a deluxe car before Tet holiday (the Lunar New Year).

Ngo Thanh Tri from Western Ford's Sale Department said that the company's agents sold out 450 vehicles a month near Tet holiday. Some vehicles are sold like hot cake, therefore, if customers want to have them, they must pay additional amount of VND100-250 million. For instance, agents sell the US-manufactured Ford Explorer sport utility vehicle at the price which is VND150-250 million higher than its original price of VND2.18 billion.

Similarly, Mercedes-Benz car, assembled and manufactured in Vietnam, has come on the market since April, 2016 with two models 250 4MATIC and 300 AMG 4MATIC with prices of VND1.789 billion and VND2.039 billion respectively yet clients must wait until March,2017 to have the car even they signed contract to buy it at this time.