Several automakers in Viet Nam have lowered their prices since the import tariff on new complete vehicles was cut from 70 to 60 percent three days ago.
 
Top-end is the first to fall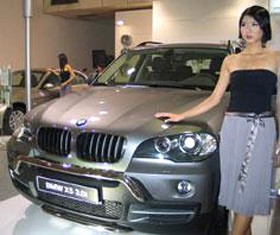 Imported cars dominate the Saigon Auto Tech 2007 show that opened yesterday
BMW importer Euro Auto knocked 2.1 to 4 percent off its different models yesterday.
 
In similar fashion, Mercedes-Benz Viet Nam cut the prices of its E-Class models by US$3,000-10,000 to become the only member of the Vietnam Automobile Manufacturers Association (VAWA) to lower its prices twice this year.
 
A Mercedes E280 is now US$20,000 cheaper, while the E200K Avantgarde costs US$6,000 less.
 
"The prices of imported cars are coming down to compete with locally assembled vehicles. The tariff cut will stimulate the auto market and importers will feel confident about bringing more cars into the country," Euro Auto general director Huynh Du An said.
 
Hoang Thi Vinh, an importer of used and new cars, is of the same view. "The tariff cut makes it easier to lower prices," she said.
 
However, the tariff cut on older cars is not having the same impact as the import duty on them is still high, Ms. Vinh pointed out.
 
What about cars made here?
 
Prices of locally assembled cars have also fallen since the tariff cut came in.
 
Tradoco director Pham Huu Tam said the lower tariff was encouraging more imports of complete cars and thereby piling the pressure on local automakers.
 
"The tariff cut shows that the ministry wants to foster competition and balance the auto market. That's why the market for brand-new complete cars will be very lively going forward," he added.
 
Mr. Tam, who is also Viet Nam's biggest importer of used cars, was not very optimistic about the competitiveness of used cars versus locally made new vehicles.
 
"Although new and used cars enjoy the same import tariff cut of 10 percent, the impact varies. The tax on used cars is still rather high, and now it's harder to find foreign suppliers," he said.
 
The other ten foreign automakers have yet to announce any change to their prices, though executives at Hyundai Motors Viet Nam said yesterday the company was considering a six percent reduction.
 
The joint ventures have orders for thousands upon thousands of cars but they have yet to deliver the goods. The backlog means they are under no pressure to lower their prices for now.
 
One industry analyst believes a few joint venture companies will lower their prices for slow selling vehicles, but not by much. With best sellers, there will be no reduction.
This is the third time the ministry has cut the tariff since the beginning of the year, when the rate stood at 90 percent.