Despite economic uncertainties, purchasing power of cars has increased and the market is once again seeing new car showrooms opening with offers of numerous promotions and better after-sale services, all of which will hopefully revive the market once again.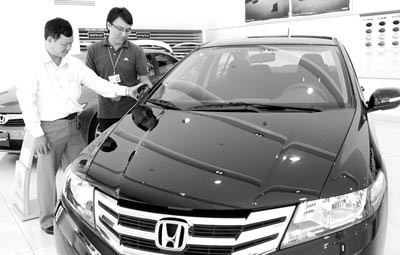 Customers watching a car in a shop in Ho Chi Minh City (Photo: SGGP)
Ngo Thanh Tri, Marketing Director of Western Ford Company in Ho Chi Minh City, said in general auto sales are better than in previous years, especially sales in 9-16 seater vehicles.

Many stores are displaying numerous new car models in many segments including luxury brands.
Along Cong Hoa Street in Tan Binh District, in just a short time, tens of automobile shops have opened and most of them are selling imported cars.
Elsewhere on Tran Hung Dao Street in District 1, An Duong Vuong Street in District 5, Phan Van Tri and Nguyen Oanh Streets in Go Vap District many car showrooms have opened.

Likewise, in outlying districts of Thu Duc, Binh Tan, or along Highway 1A, 22 new shops have opened, but these sell second-hand cars.

Nguyen Dinh Nhu, Director of Kim Thanh Automobile Company, an official Honda distributor, said auto sales this year are looking brighter. He pointed out the improvement in auto sales is thanks to the launch of a series of cars in segments  appropriate to customer demand and supported by easy and low interest loans.

According to the General Statistics Office, a total of 3,000 imported cars sold in September, 1,000 more than last month.
Among the imported cars, most are from South Korea; followed by Thailand, China and Japan. These brands are big names like Audi, BMW, Land Rover, Renault, Lexus and Infiniti.

Businesses believe that car sales can lift after registration tax reduction and lowering of import tax. Under the ASEAN Free Trade Agreement, import tax will decrease steadily from 50 percent in 2014 to zero percent by 2018.