Similarly transporting a consignment from HCMC to Singapore costs only VND1-2 million but it is as high as VND5.3 million from HCMC to Vung Tau city over the distance of 120 kilometers.

That was revealed at Vietnam Logistics Forum "Improvement of competitiveness and development of Vietnam logistics services" in Hanoi this morning. The event was hosted by the Ministry of Industry and Trade, the Ministry of Transport, the World Bank and Vietnam Logistics Association.
At the forum, many businesses lamented that transport cost accounts for 5-6 percent or even 20 percent of their production costs. In addition, they are bearing many other logistics costs such as cargo loading, discharging, storage and preservation.
Mr. Le Huy Hiep, chairman of Vietnam Logistics Association, said that logistics service in Vietnam is strongly developing with the growth rate of 15-16 percent a year, ranked fourth in Asia after Singapore, Malaysia and Thailand.
Vietnam's logistics cost totaled $41.26 billion last year equivalent to 20.8 percent gross domestic product (GDP).
The country now has about 3,000 businesses in the field. Most of them are small and medium scaled. Only 30 companies supplying multinational logistics service are operating in Vietnam.
The weak point of Vietnamese logistics companies is not good service quality and high cost. There are many reasons for that including problems in customs procedures, tax, loading and storage costs, management experience, human resource, IT application and unclear costs in administrative procedures.
Logistics cost cut and competitiveness improvement to boost export and economic development is an urgent requirement, according to Mr. Hiep.
The Prime Minister has issued Decision No.200 this year to pass a an action plan to develop logistics service and improve competitiveness. The plan aims at raising logistics service's contribution ratio to 8-10 percent GDP and reducing costs to 16-20 percent GDP, said Minister of Industry and Trade Tran Tuan Anh.
However, the service has faced many limitations such as unconnected plans among relevant agencies; weak traffic, commercial and IT infrastructures which are unconnected with countries in the region. In addition, human resource has failed to meet requirements and the competitiveness of Vietnamese logistics companies is not high compared to businesses in the region and in the world.
The ministry and relevant ministries will continue amending policies and regulations to simplify administrative procedures to create advantageous conditions for businesses to solve these difficulties.
Minister Tran Tuan Anh suggested relevant sides to better cooperation to develop traffic infrastructure, logistics centers and IT infrastructures, in association with key economic zones and corridors and able to connect with nations in the region and the world to develop logistics service efficiently.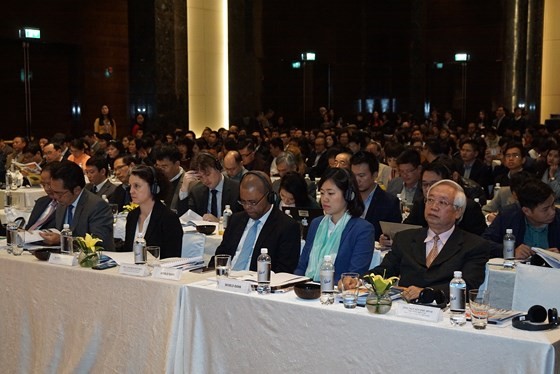 Delegates at the forum (Photo: SGGP)