Although cashew exports saw an increase of 30 percent in volume, and 14.1 percent in value compared to the same period last year, many small and medium exporters are facing difficulties and even risk of closing down factories, according to the Vietnam Cashew Association.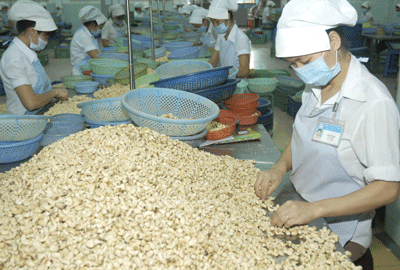 Cashew exporters are presently facing many difficulties (Photo: SGGP)
In the first seven months of this year, Vietnam exported about 106,000 tons of cashew nuts, reaching a turnover of more than $722 million.
However, prices of cashew kept falling sharply from US$4.6 in the beginning of the year to $3.17 at present per pound.
Despite zero profits at the moment, enterprises are struggling to pay back bank loans.
Competition in the trade has not helped and with conflicting pricing set by enterprises, importers are making hostile bids for the second quarter of this year.
Moreover, many small enterprises have already shut operations. In the southern province of Binh Phuoc alone, 70 percent of the enterprises have stopped operations and moved to other sectors. Worse, a number of cashew plants in the southern province of Binh Phuoc have been chopped down en mass, to make way for rubber plantations, as farmers are losing patience with the repeated fall in prices of cashew nuts.
Not only difficulties in the market and the falling prices, enterprises have also to encounter strict food safety and hygiene regulations and higher taxes. For instance, China, the second largest market for Vietnam after the United States, has imposed prohibitively high taxes on Vietnamese cashew.
Accordingly, enterprises that paid VND100 million ($4,793) as tax for one truckload in the past, now pay $400 million ($19,000). Guangtung Cashew Importer Association in China also wants to impose very strict food safety regulations and controlled pricing.
Hence Vietnam Cashew Association has recently reduced its target for cashew exports this year from US$1.5 billion to $1.1 billion, same as in 2011. The association said that Vietnam can only export around 150,000 tons of cashews, even though enterprises fret on the sharp fall in supply.
This year has seen low import of cashew totaling only 116,300 tons, accounting for 41.8 percent lower than last year. Hence enterprises fear that it is not enough to meet export demand for this year.
The association has proposed to importers to buy more cashews so as to cover export demand, and also warned enterprises to focus on food safety and hygiene rather than large quantity without heed to quality.
In addition, the association also called for government support to help enterprises access bank loans at low interest rates and relax deadline for old loans, as enterprises need more than VND96 billion ($4,602,000) to import 133,600 tons of cashew.