Tra catfish accounts for the largest chunk of seafood exports and is expected to fetch US$1.2-1.3 billion this year, but farmers have not profited much from this and continue to struggle.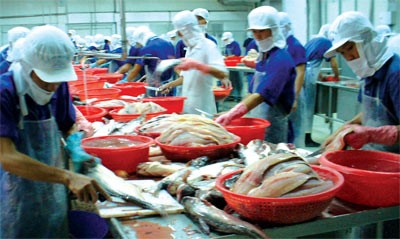 Processing tra catfish for export at a factory in the Mekong Delta. Tra exporters have struck it rich but farmers are struggling to make ends meet (Photo: SGGP)
By mid-July more than 295,000 tons of tra worth US$668 million were exported, leaving shrimp trailing behind.

Volumes have risen 50 times and revenues 65 times in the last decade.

The Egyptian and Dutch governments have said Vietnamese catfish is completely safe.

The US has announced it will no longer levy anti-dumping or import duties on seafood exported by six Vietnamese companies.

Catfish exports are forecast to soar further during the year-end because of the holiday season.

But despite all this, farmers in the Mekong Delta get only VN13,500 to 14,800 for a kilogram of tra while the market price is VND15,000-15,500.

Nguyen Van Ut, a farmer from Cai Lay, Tien Giang Province, said farmers incur an average loss of VND1,000 a kilogram.

Phan Van Danh, the chairman of the An Giang Seafood Processing and Fisheries Association, said: "Catfish farmers still face difficulties. They cannot make a profit since the cost price is higher than selling price."

"Banks refuse to lend to catfish farmers because of the high risks involved in farming," he added.

Many farmers have stopped breeding catfish since they do not have enough funds.

In An Giang Province, 70-80 percent of farmers have incurred losses and 2,854 farmers have borrowed VND1.5 trillion (US$84.2 million) to breed catfish.

Most farmers in Ben Tre Province have not earned profits for a long time.

In Dong Thap Province, the tra farming area has shrunk from 1,400 hectares in 2008 to 900 hectares now.

Can Tho city currently has 970 hectares of catfish farms. But this year the area and output have shrunk by 27 percent and 25 percent respectively.

In the Mekong Delta, the area has decreased by 30 percent since 2008.

Some said exporters offer low prices for catfish since they have plenty in stock and many of them farm their own fish.

A survey of 431 enterprises and farmers by Can Tho University's Mekong Delta Development Research Institute found that of the overall profit from catfish export, 78.5 percent went to processors, 19.4 percent to farmers, and 2.1 to percent traders.

The survey was done in 2007 and early 2008 when farmers made big profits. But since the second quarter of 2008 farmers have been selling catfish at unprofitable rates.