Viet Nam's farming of tra and basa has developed so rapidly that its environmental and social impacts worry not only local authorities but also the World Wildlife Fund.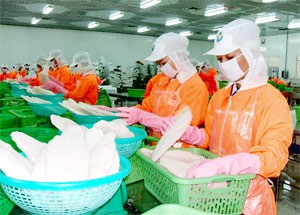 Processing catfish for export
In the last ten years, the farming area of these two key species of catfish or pangasius increased seven times and production has increased 36.2 times
About 90 per cent of the world's catfish farming occurs in Viet Nam. Almost one million tons of the fish are expected to be farmed here this year – a target the country had originally set for 2010.
Besides the expansion of catfish farms, processing factories mushroomed in the Mekong Delta. Without waste water treatment facilities, these farms and factories are seriously polluting the region's river and environment.
Last week, WWF held a two-day meeting, a part of the Pangasius Aquaculture Dialogue, among catfish producers and buyers from around the world to identify main environmental and social impacts related to the catfish farming.  They sought optimal solutions for a sustainable catfish production.
"We are excited about starting this process," said Dr. Flavio Corsin, World Wildlife Fund (WWF) senior aquaculture advisor.
"Pangasius farming is one of the fastest-growing types of aquaculture in the world. It is critical to minimize pangasius farming's impact on the environment and society, while also accommodating the market demand for this type of fish," he added.
Speaking at the meeting, Ngo Phuoc Hau, vice chairman of the Viet Nam Association of Seafood Producers and Processors (VASEP), said there is not any standard for certifying products; as a result there is no consistency of quality among production factories.  
He said product standards should be soon set. He also suggested other measures to ensure the sustainable development of catfish farming in Viet Nam, like improving the quality of fish strains, increasing the use of feed, vaccines, and technology, and strengthening the national trademark, delivery systems, and human resources.
He called for closer cooperation between farmers, processors, and exporters.
The dialogue will continue through 2008, with participants from the US, UK, Netherlands, Denmark, Canada, Cambodia, Thailand, Indonesia, and Viet Nam meeting to develop credible, measurable, and voluntary standards designed to minimize the key impacts they identify in this meeting.
Once finalized, the standards will be handed off to a new or existing certification entity to manage the system.
Global output of catfish rose from 10,000 tons in 1995 to 440,000 tons in 2005, according to the United Nations Food and Agriculture Organization.
The growth in catfish aquaculture is driven, in large part, by the dramatic increase in demand for tra and basa in the marketplace. The fish is sold to more than 80 countries globally, mainly in the form of white filet.
This growth raises concerns about the sustainability of catfish aquaculture products, particularly from an environmental and social standpoint.
The Pangasius Aquaculture Dialogue is one of six dialogues initiated by WWF.
Dialogues are also underway for developing standards to certify salmon, shrimp, and tilapia aquaculture products.
Each dialogue group is a network of producers, members of the market chain, researchers, non-profit organizations, government officials, and investors. They use a transparent, multi-stakeholder process to develop sustainable standards for aquaculture production.